San Jose, Calif. — Landon Donovan's timing was off just once during a spectacular four-goal performance in the MLS All-Star game.
Donovan, the San Jose Earthquakes' 19-year-old rookie forward, scored three goals in the first 18 minutes and a fourth 83 seconds into injury time as the West played to a 6-6 tie with the East on Saturday in the league's sixth All-Star game.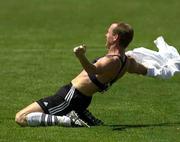 "It's beyond my wildest dreams to do this in my first year in the league," Donovan said. "It's something special. Maybe if it was a real game, I would have felt more pressure, but the guys helped me to play all-out and have fun."
Donovan's four goals doubled the previous All-Star game record and earned him the MVP award. He celebrated his fourth by ripping off his jersey to reveal a black sports bra similar to the one famously worn by U.S. women's team star Brandi Chastain in the 1999 World Cup.
Trouble is, Jim Rooney of the Miami Fusion did the exact same thing a few minutes earlier.
It was the only less-than-original move made by Donovan all afternoon. No matter: he put on a remarkable show for his home fans at a packed Spartan Stadium.
"You have to wonder where they got those bras," East coach Ray Hudson said. "But the kid is brilliant. He's not just a good footballer he's got that thing you can't describe. He's one-of-a-kind."
Even without his bright blond dye job, Donovan would have stood out on Saturday. Widely considered a future star of the U.S. national team, Donovan used his seemingly effortless speed and careful footwork to lead an afternoon of thrilling, wide-open soccer.
"It was a carnival game, and all the big acts stepped up and performed," Hudson said. "It really couldn't have been any better. I don't think there will be an MLS All-Star game as purely entertaining as that ever again."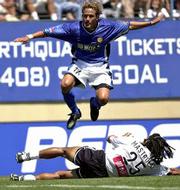 The East scored twice in the final seven minutes of regulation and nearly stole the game from the West, which never trailed until Cate of New England scored a go-ahead goal in the 88th minute.
But the final result was secondary to the all-out offensive show put on by both teams and the fun of a friendly match among MLS' best players.
Rooney scored in the 84th minute to tie it at 5. To the delight of the crowd, he showed off his sports bra as his teammates showered him with water. Rooney and Colorado's John Spencer hatched their plan on Thursday at the All-Star Skills Challenge; Donovan said his prank was completely unrelated.
"It was all in fun. We were just trying to do Brandi one better," Rooney said.
Copyright 2018 The Associated Press. All rights reserved. This material may not be published, broadcast, rewritten or redistributed. We strive to uphold our values for every story published.