A 10-year-old boy with a passion for butterflies went through a metamorphosis much like the insects that fascinated him.
In the process of maturing from curious child to knowledgeable adult, Scott Wisdom has transformed his garden as much as he has himself.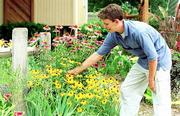 "I didn't know anything about raised beds or amending soil," he confessed. He gardens improved because of his back-breaking work, plenty of reading and of course trial and error.
The eager youngster started his garden simply, putting in a few plants in the back yard.
"I bought six butterfly bushes," Wisdom said of his early gardening attempts. "Two are still alive 12 years later."
Today, his gardens border the back yard, decorate the front yard, spill from several large containers and climb trellises.
The multitude of spring-flowering bulbs is gone, naturally, and the fall bloomers have yet to come on.
But, oh, the summer garden is a sight to behold.
The gardens are bright with perennial blooms of black-eyed Susan, white phlox, Spuria iris, astilbe, clematis, blackberry lilies, daylilies and the butterfly bushes. The shaded areas are home to wonderful varieties of hostas, with more sitting in pots waiting to be planted.
Although some attractive annuals have found their way into the garden, Wisdom admitted, "I'm not a big annual person. I like to try to let perennials do the job."
In spite of its casual appearance, not much happens in the garden by chance. Wisdom is careful with bloom colors and plant heights. He plans his garden beds so they have three seasons of bloom.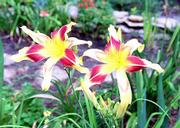 "I find I do better when I have a diagram," he explained. "It helps my thought process."
Leaves and flowers
Wisdom has a soft spot for hostas and daylilies. A soaking hose, hidden under a layer of mulch, snakes it way along a bed of hostas at the front of the house. He waters the plants every one or two days for only 10 minutes. That's enough to keep the soil moist, yet still workable.
"Hostas love moisture. That's what makes them get big moisture and fertilizer," he said. "I want a gargantuan one. That's my goal."
As much as he loves hostas, I believe it's the daylilies that have captured Wisdom's heart. Wonderful varieties like Country Charmer, a shade-lover named Kwansa variegata and a couple of rebloomers dot the front flower bed. A few plants have seed pods the result of hand-applied cross-pollination.
"I get up at 5 o'clock in the morning, before the bees are out," Wisdom said of his endeavors to develop new varieties. Fifty seedlings are being cultivated in his greenhouse. He's eagerly awaiting the results hoping for spectacular blooms.
"I'll send them in to get registered with the American Hemerocallis Society," he said.
Wisdom gives his daylilies plenty of attention and plenty of water.
"The more water you give them, the taller they'll be and the better they'll bloom," he noted. "They'll look better in summer, too."
And they get a trim the first season.
"I don't mind waiting. I'll cut the blooms off the first year," he said. "It really helps them bloom the next year."
Experimenting and expanding
Among the plants in the back yard is an herb garden that Wisdom and his mother tend. The two of them are the gardeners in the family. Wisdom's dad is generally kept in the dark when the two of them team up to dig up more grass to expand the garden.
"Usually, we don't tell him of what our plans are going to be," he chuckled.
Wisdom has plenty of plans. He is in the process of completing a small greenhouse to nurture the unusual and new plants he cultivates. One wall is lined with orchids.
"It's trial and error with orchids," he said. Anyone who has grown orchids would have to admit "you always kill the first one or two until you find out what they like," he said.
Wisdom is a student at Kansas University, studying for a degree in biology with emphasis in botany. That may explain his comment, "I'm not big in common names (of plants). I go with botanical names."
He also works as an assistant with a veterinarian and at a garden center. And he's toying with the idea of putting in a water garden.
To be sure, Wisdom shows what a determined 10-year-old with a half-dozen butterfly bushes can accomplish over the years.
---
Carol Boncella is education coordinator at Lawrence Memorial Hospital and garden writer for the Journal-World.
Copyright 2018 The Lawrence Journal-World. All rights reserved. This material may not be published, broadcast, rewritten or redistributed. We strive to uphold our values for every story published.