Walter Jackson never knew the three women whose photos he carried in his wallet.
At age 3, he was taken away from the women his mother and sisters and placed in an orphanage. He was adopted and never heard from his biological family again.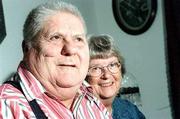 Now, more than 70 years later, Jackson has tracked down his last remaining sister, and the siblings have some catching up to do.
Jackson, 74, and his wife, Lois, are traveling today to Versailles, Ky., with their daughters, fellow Lawrence residents Carrie Neighbors and Nancy Winchester. They'll meet Jackson's sister, Rowena Maines, and about 20 other members of their family.
Jackson can't wait.
"I want to learn more about my family," he said. "I've been curious for 70 years."
Jackson was born in 1926 near Lyndon, Ky. But his father deserted the family in 1929, so he and his family went to live with his mother's parents, also near Lyndon.
But with the Depression beginning to set in, Jackson's grandfather couldn't afford to feed everyone in his house. In addition to Jackson, his older sister, Gladys, and his younger brother, Henry, there were at least four other children living at the house Jackson's cousins and his aunts and uncles.
And Jackson's mother had another child Maines on the way.
'Just overwhelmed'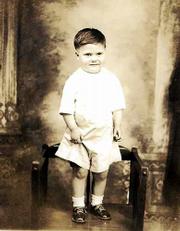 "I think he was just overwhelmed at the time," Jackson said. "We were lucky to have one meal a day."
So Jackson's family sent him and Gladys away to the Kentucky Children's Home in Lyndon. Jackson's mother laid on the orphanage floor and cried as they took her children away, other family members recalled.
A few days later, Jackson was adopted by a family from Clinton, Ky. He didn't find out he was adopted until he was 19 years old.
Since then, Jackson, a retired high school janitor, has wondered what became of his family. He's wondered about his family medical history. And he's wondered about his ancestry.
He sent a few letters to his biological mother, but she never replied. She may never have received them. Apart from photos of his mother and sisters supplied by his biological grandmother, he has never had contact with the family.
Then, last month, he found the clues that led him back to his family.
Clues unearthed
While moving his mother into a nursing home in Tempe, Ariz., he found a box of paperwork about his adoption. The papers included the name "William Gloff," Jackson's biological uncle.
Jackson's daughter typed the name into ancestry.com, a genealogy Web site. She immediately found Gloff's phone number.
The daughter called Gloff, who told her this story: Gloff, now 85, was among the family members who delivered Jackson and his sister, Gladys, to the orphanage. Gloff accidentally slammed Jackson's fingers in the car door, turning them black and blue.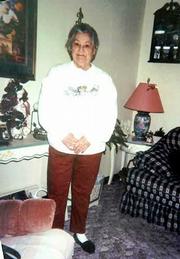 "Tell him to call me," Gloff said. "I never got to say I'm sorry for slamming his fingers in the door."
He also connected Winchester with Maines, Jackson's last living sister.
"You hear about these miracles on TV where people find their families," Jackson said. "I never dreamed this. I'd given up altogether finding out who I was."
Maines, 69, was as happy to hear from her brother as he was to talk to her.
Their mother, who died of diabetes at age 45 in 1954, would show Maines the same photos Jackson long studied. She knew her brother had joined the Army but didn't even know his last name.
'This is my brother'
"It's just unbelievable," she said in a telephone interview. "I always wondered about him. I didn't even know if he made it back from the war or anything."
As a child, Maines split her time between living with her grandparents and with her mother. The other sister, Gladys, bounced between foster homes before marrying and having 11 children. She died two years ago.
Maines said she was having a hard time sleeping this week in anticipation of the long-sought family reunion.
"It's just awesome, I tell you," she said. "All these years of wondering, and now I know he's alive.
"I can say something I've never said before. I can introduce him to somebody and say, 'This is my brother.'"
Copyright 2018 The Lawrence Journal-World. All rights reserved. This material may not be published, broadcast, rewritten or redistributed. We strive to uphold our values for every story published.