Lana Nordyke's $15,000 ring was back on her finger Saturday.
"It's amazing. I never thought I'd see it again," she said.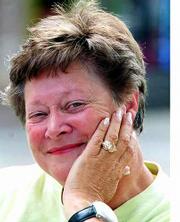 Nordyke, who lives in Wichita, lost the 3-carat diamond ring during a mid-July trip to Lawrence. She offered a $3,000 reward, but no one called.
Nordyke's plight was the subject of a story Thursday in the Journal-World.
While waiting on a late-morning breakfast at the Paradise Cafe, Nordyke, 59, explained that "a very nice young man" called her over the noon hour Friday to say that he'd found the ring Tuesday in the parking lot outside the Antique Bazaars mall in I-70 Business Center in North Lawrence.
Nordyke and her husband, Howard, drove Saturday to Lawrence in hopes of getting back the ring. The finder agreed to meet them in the I-70 Business Center parking lot.
The caller, a Lawrence resident who asked Nordyke not to release his name, said he had seen the reward in a classified ad in the Journal-World. He had not seen the front-page story.
"He said he found it just off the concrete curbing there in the parking lot," Nordyke said. "If he found it Tuesday, that means it had been there 11 days."
The Nordykes said they have no reason to doubt the man's story.
"When we got there, there was a highway patrolman sitting in his car, right there in the parking lot," Howard Nordyke said. "I thought, 'Oh, no, if something's up (the finder) will see him and drive right off, and the ring will be gone forever.
"But when he got there, he pulled in right next to the patrolman. I don't think he would have done that if he was hiding something," he said. "And he let (Lana Nordyke) take the ring inside the antique mall so she could plug in a diamond tester she'd brought with her."
Howard Nordyke said he wrote the man a check for $3,000 the promised reward.
"He was very nice, I'm guessing he was 23 or 24. He had a baby with him," he said. "I asked him what he was going to do with the money, and he said he was going to pay off some of their credit cards."
In the Journal-World story, Lana Nordyke said that if pressed, she was willing to pay more than $3,000 to get the ring back. On Saturday, Howard Nordyke said, the finder did not ask for more than the advertised reward.
The Nordykes own Howard's Optical stores in Wichita, Salina and Topeka.
The ring once belonged to Betty Frank, the wife of a close friend who gave Howard Nordyke his start in the eyeglass business. Frank gave the ring to Lana Nordyke after her husband's death.
"She's a very, very dear friend," Lana Nordyke said. "I cannot begin to tell you how much this ring means to me."
The experience of losing and retrieving the ring, Lana Nordyke said, taught her to "not think bad thoughts and to believe in the good in people. And it doesn't hurt to pray a little bit."
Copyright 2018 The Lawrence Journal-World. All rights reserved. This material may not be published, broadcast, rewritten or redistributed. We strive to uphold our values for every story published.