Desk accessories like paperweights, letter openers and inkwells are often made in unexpected shapes.
A famous Scotch inkwell was made from a ram's head with huge horns. The metal-trimmed head must have taken up half the space on a desktop.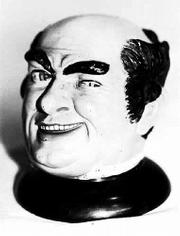 Manufacturers like Tiffany made desk sets of weblike metal set over colored glass. Stamp boxes, blotter ends, calendar holders, pen rests and many other small objects could be part of a Tiffany set.
Figural inkwells of porcelain or metal were popular in the early 20th century. Skulls could open to reveal a bottle of ink. Cupids caroused around trimmed metal holders for ink bottles.
Small animals, phrenology heads, elves, golfers and ships were all shapes for inkwells. Desk accessories were a statement of the owner's interests. Figural inkwells sell today by age and appeal. An unusual shape will bring a higher price.
I have some old dishes with a border of rows of Asian men in long robes. There are circles within circles of these men that fill most of the plate. A friend said it is called Thousand Faces china. How old is it?
Thousand Face porcelain was made in Japan after 1850. The flat figures represent Buddhist saints on the way to becoming Buddhas. Sometimes the men carry parasols or scrolls.
The Buddhist robes are orange, and other parts of the plate are green, blue and gold. The feet of the figures stand on the smallest circle, which is light blue and represents heaven.
Some pieces picture figures with halos, a landscape or a golden dragon. The bowls and cups might have decorations both inside and outside. The pattern has been made for many years. Pieces could be found in the dime stores of the 1970s. Recent pieces are not as well-made.
At a flea market in England, I found an old ceramic toothbrush holder decorated with a cartoonlike picture of a dog. He's black and white, with small ears one black and one white.
The seller told me the dog's name is Bonzo. I've never heard of him. Was he a Disney character?
Bonzo is not a Disney creation. He was the lead character in a comic strip created by George Studdy, an English illustrator. The cartoon was carried in English and American publications from the 1920s through the '50s.
All sorts of novelties, postcards, stuffed dolls and toys were made using Bonzo's picture.
My father saved my old toy Kidillac-model pedal car. It is almost as good as new. Can you give me any information about it?
Your father did you a big favor. The Kidillac pedal car is probably the most famous ever made.
It was introduced in 1956 by Garton Toy Co. of Sheboygan, Wis., and was produced for several years. General Motors, which makes Cadillacs, approved Garton's production of the toy car.
Garton, founded in 1887, made tricycles, scooters, wagons, pedal cars and other riding toys until 1973. A Kidillac in top condition can sell for more than $1,000.
Among my mother-in-law's belongings, I found an old metal advertising ruler. Embossed along the length of the 6-inch ruler are the words "A good rule for advertising purposes, manufactured by L.F. Grammes & Sons." Can you identify the maker?
L.F. Grammes & Sons worked in Allentown, Pa., from 1892 to the 1960s. The company's roots go back to 1875, when founder Lewis F. Grammes opened a machine shop in Allentown.
The company manufactured a wide range of metal products over the years everything from practical products, like hinges and drawer pulls, to artistic pieces, like cigarette boxes and bookends. Your advertising ruler would sell for about $10.
Can you tell me the difference between a toastmaster's glass and a sham-dram? All I know is that both of them are trick glasses that hold a tiny amount of liquor.
The role of a toastmaster was established by at least the end of the 1600s. During the early 1700s, toastmasters came to realize that they couldn't fulfill their official duties and drink glass after glass of liquor.
Special drinking glasses or long-stemmed cordials were made with bowls that were nearly filled with solid glass. A tiny V-shaped depression in the bowl held only a half-ounce of liquor.
Sham-drams were introduced near the end of the 1700s. They were used by tavern keepers when invited to drink with customers.
Early sham-drams were shaped like ale glasses of the period, but were slightly shorter. They were made of heavy, inexpensive glass.
Like a toastmaster's glass, a sham-dram has a solid bowl inside that limits the amount of liquor the glass can hold.
The Kovels answer as many questions as possible through the column. By sending a letter with a question, you give full permission for its use in the column or any other Kovel forum. Names and addresses will not be published. We cannot guarantee the return of any photograph, but if a stamped envelope is included, we will try. The volume of mail makes personal answers or appraisals impossible. Write to Kovels, Lawrence Journal-World, King Features Syndicate, 235 E. 45th St., New York, N.Y. 10017.
Copyright 2018 The Lawrence Journal-World. All rights reserved. This material may not be published, broadcast, rewritten or redistributed. We strive to uphold our values for every story published.