New York — Babe Ruth, all barrel chest and furrowed brow. Mae West vamping as Diamond Lil. Josephine Baker. Fiorello La Guardia. The Algonquin Round Table gang.
They are images from a show at the New York Public Library titled "Celebrity Caricature in America."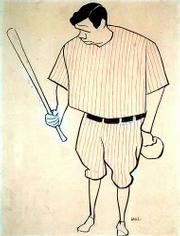 First mounted in 1998 at the Smithsonian's National Portrait Gallery, the show recalls an era roughly between World Wars I and II when the mass media were busy forging celebrity culture as we know it now.
The idea for the exhibit originated with curator Wendy Wick Reaves, who saw old issues of Vanity Fair while working on another project and was charmed by the lively drawings of Jazz Age notables.
"They really were almost celebratory, which seemed to contradict the tradition of caricature," said Reaves, who is curator of prints and drawings at the National Portrait Gallery.
Earlier caricaturists like Thomas Nast had bite. "They were judgmental," Reaves said. "They really wanted to destroy a reputation or uncover weaknesses, whereas these didn't seek to do that at all."
The works Reaves selected for the show are satirical but not cruel.
Al Hirschfeld, still the house caricaturist at The New York Times, is well represented, with subjects including the Marx Brothers, Walter Winchell and Bill "Bojangles" Robinson.
Other artists in the show are less well-known today, including Miguel Covarrubias, Ralph Barton, Al Frueh, Paolo Garretto and William Auerbach-Levy.
Garretto's La Guardia is cast as Napoleon at a microphone, while his Al Smith has a Jimmy Durante nose and a red, white and blue heart. Both portraits were originally published in Vanity Fair in 1934.
Covarrubias' "Clark Gable and the Prince of Wales," from 1932, shows the actor as a one-eyed Cubist hunk.
The New York Public Library has added an element not present in the Smithsonian show: audiotapes of several of the caricature subjects.
Using headphones, the visitor can hear La Guardia's high-pitched voice reading "Little Orphan Annie" during the New York City newspaper strike of 1945.
There is a 1907 recording of Enrico Caruso singing an aria from "Pagliacci" and the always bawdy West singing "I'm No Angel" in 1933.
Other recorded voices include those of Ruth, Will Rogers, Noel Coward, Charles Lindbergh and Theodore Roosevelt.
Smith, the former New York governor, tells reporters after returning from a European trip in 1932 that "as far as war is concerned, nobody over there wants it." Mussolini said so himself, he adds.
New York seems the logical home for the show because many of the portraits are of Broadway stars. A booth at Sardi's, the Theater District restaurant known for its caricatures, is re-created for the show, with Jeanette MacDonald and Helen Keller among the luminaries depicted.
And New York is home to Hirschfeld, whose 98th birthday coincided with the exhibit's opening-night party.
"I loved it," Hirschfeld said of the show. "I thought it was beautifully done. They incorporated a lot of very important caricaturists that have been completely forgotten except by specialists."
Copyright 2017 The Associated Press. All rights reserved. This material may not be published, broadcast, rewritten or redistributed. We strive to uphold our values for every story published.