Branson, Mo. — The biker pulled hard on the marijuana joint and motioned toward the hill that overlooked the motel.
"Look at 'em up there watching all this," he said. A dozen or so of his Hells Angels brothers mingled nearby.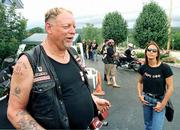 Up on the hill, a group of Missouri Highway Patrol troopers and other officers gazed down toward the motel from a parking lot. Fifty-seven patrol cars were parked nearby.
Later, when asked about the show of force, a state trooper leaned and spit tobacco juice on the hot pavement. Splat.
"Have to ask Branson," he said.
The Hells Angels roared into this tourist town this week for their national gathering the 2001 Annual Run. Dozens of police watched as hundreds of bikers 20 or so at a time from chapters all over the country turned Shepherd of the Hills Expressway into Thunder Road.
Why Branson? Why would the most famous rebel bikers in the world choose the mecca of family-values vacationers?
Simple geography. Most Hells Angels chapters are on the coasts. Branson, nestled in the Ozarks hills of southern Missouri, is a cozy halfway meeting spot.
Marquees outside some theaters and restaurants welcomed them to town. Tourists posed for pictures in front of the welcoming signs.
The Jim Stafford Theater invited the bikers to a Sunday morning praise gathering. "Come as you are and experience the love of Christ," the flier said.
But law enforcement had its own way of welcoming the bikers. Patrol cars, posted like sentries on highways leading to Branson, sent back radio reports of approaching bikers.
Each group of Angels was tailed into town by a state trooper.
The Missouri Highway Patrol sent 80 additional troopers to assist Branson police. Taney and Stone counties sent deputies. A few federal officers are also in the mix.
The Angels 500 were expected by the weekend have filled two hotels and most of a third on the city's north side. Meanwhile, the Highway Patrol has taken the nearby Best Western Branson Towers.
With a hot sun bearing down Wednesday, both camps watched each other warily. Every few minutes, a patrol car cruised through the motel parking lots where the Angels were working on bikes and drinking whiskey.
Caroll McCullough, Branson assistant police chief, said the Hells Angels' reputation deserved or not merited the heightened scrutiny. He acknowledged, too, that police were on the lookout for at least two Angels wanted for questioning in criminal investigations.
Branson police officials consulted with other jurisdictions where Hells Angels have met recently and were advised to "beef up force."
He dismissed Angels' complaints of police harassment.
"I think they are used to this," McCullough said.
The Angels accuse the police of Gestapolike tactics.
"Looks like we tore down the Berlin Wall but brought it back over here," said Big Nick, an Angel from Vallejo, Calif. Like many Angels, he declined to give his full name.
He said he would not ride to Branson's entertainment district.
"Because I don't want to ride with a police escort. Besides, any money I spend here will go to pay for the cops."
McCullough agreed the increased police presence would come with a price tag, but he did not know the amount.
Regardless, both Branson and the Hells Angels could be in for some image-shaking this weekend.
Branson touts itself as America's family-values vacation destination. It's a favorite of senior citizens and families with young children. But Wednesday, as Buicks and minivans crawled bumper-to-bumper, Hells Angels on their Harley-Davidsons roared past the line of traffic on the far right.
"Why would they want to come here?" wondered a man from Lexington, Ky., who watched outside the Mickey Gilley Theater.
"I would think they would be bored," his wife added.
Copyright 2018 The Lawrence Journal-World. All rights reserved. This material may not be published, broadcast, rewritten or redistributed. We strive to uphold our values for every story published.