Toronto — Roger Clemens' major leading-leading 15th win came with a price.
Clemens, who left in the sixth inning with cramps in his right groin, won his 11th straight decision, leading the New York Yankees to their seventh consecutive win, 12-1 over the Toronto Blue Jays on Saturday.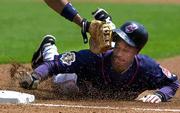 "I know it's not as severe as I've done it in the past, so I don't expect it to linger," Clemens said. "I'll see how I feel tomorrow."
Clemens (15-1) allowed one hit and no runs in 52*3 innings before calling the trainer out.
"I knew that something wasn't right," said Clemens, who uncharacteristically had to wrap his leg a second time the inning before. "When I kicked the dirt I felt it a little more, so at that point I knew my legs were trying to shut down. When the trainer came out I said I had a real zinger inside my leg."
Ramiro Mendoza and Mark Wohlers finished the two-hitter.
Clemens, who turns 39 next Saturday, is 24-3 since returning from a groin injury last July.
"I use my legs a great deal," said Clemens, who struggled when he first joined the Yankees because of a groin injury. "I'll get treatment, and cut back on some of the things I'll do."
The hard-throwing right-hander struck out eight and walked three. He's the first Yankees pitcher to win 11 straight decisions since Jimmy Key in 1994.
"He's been our best pitcher all year. With El Duque out he's the last guy that we need to got down right now," Martinez said. "So it was a little nerve-racking, but hopefully he'll be all right."
Tino Martinez and Bernie Williams each hit two-run homers for the Yankees, who have hit 17 home runs during the winning streak.
Scott Brosius went 3-for-5 with a pair of RBI doubles as every Yankees starter had a hit except Jorge Posada.
"We've been on a run we're everyone is getting quality at-bats," New York manager Joe Torre said.
Carlos Delgado homered for the Blue Jays (48-57), who fell a season-high nine games below .500.
White Sox 3, Red Sox 1
Boston Carlos Lee hit a tiebreaking RBI triple in the seventh inning to lead Chicago. Despite the return of Carl Everett, the Red Sox fell 31*2 games behind the New York Yankees in the AL East their biggest deficit of the season. Everett, playing for the first time since injuring his right knee on June 21, misjudged Lee's triple to center field off Tim Wakefield (6-6). Magglio Ordonez added an RBI double.
Indians 6-2, Tigers 4-4
Detroit Jeff Weaver (10-9) pitched seven strong innings to help Detroit end a seven-game losing streak in the second game. Roberto Alomar's tie-breaking, two-run double and Juan Gonzalez's 27th home run lifted Cleveland in the opener. Juan Encarnacion tripled twice and scored two runs, and Shane Halter had two RBIs for the Tigers in the nightcap.
Mariners 5, Twins 1
Seattle Ichiro Suzuki went 3-for-4 with two RBIs and a stolen base on his own bobblehead doll day to lead Seattle over Minnesota. Bret Boone also drove in two runs for the Mariners (75-29), who improved to 7-1 against Minnesota this year.
Devil Rays 7, Rangers 3
10 innings
Arlington, Texas Toby Hall hit a tiebreaking RBI single in Tampa Bay's four-run 10th inning to snap Texas' five-game winning streak. Tampa Bay won despite blowing a 3-1 lead in the ninth inning that nearly spoiled rookie Nick Bierbrodt's strong debut with the Devil Rays. Tampa Bay recovered in the 10th.
Angels 6, Orioles 4
Anaheim, Calif. Scott Spiezio homered twice and Shawn Wooten led off Anaheim's four-run eighth inning with a home run. With the Angels trailing 3-2 in the eighth, Wooten hit a foul popup that fell between third baseman Tony Batista and shortstop Brian Roberts down the left-field line. Two pitches later, Wooten homered off Ryan Kohlmeier to tie the game.
Copyright 2018 The Associated Press. All rights reserved. This material may not be published, broadcast, rewritten or redistributed. We strive to uphold our values for every story published.