Jackson, Wyo. — Firefighters rigged high-power sprinkler systems and sprayed protective material on homes Friday as a wildfire made another run at about 100 upscale homes outside this resort in the Rockies.
Flames had drawn within 200 feet of a neighborhood where the price of homes, nearly hidden in the bone-dry forest, averages $5 million. Nearly all the homes have flammable, wooden-shingle roofs and can be reached only by narrow, winding roads, limiting the number of fire engines able to stand watch.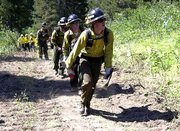 The forecast called for high winds and dry heat through today.
The Forest Service has marshaled about 1,000 firefighters and 11 helicopters, 10 air tankers and six other planes to battle the blaze, which has charred more than 3,000 acres.
"We're fighting this thing hot and heavy, about as hot and heavy as you can," fire spokesman Bobby Kitchens said.
A plume of smoke towered over Jackson Hole, a 40-mile-long valley surrounded by three mountain ranges and gateway to the Grand Teton and Yellowstone national parks. The Tetons, which lie north of the blaze, have been blotted out at times by the haze.
A team of investigators arrived to determine how the fire began Sunday in a camping area. The probe was looking into all possible causes, such as a lightning strike, an abandoned campfire or even arson, fire spokeswoman Joan Anzelmo said.
"We don't know what caused the fire yet because we have not been able to get to the point of ignition," she said.
On Friday, the mitten-shaped blaze moved onto private property for the first time. Containment was estimated at 50 percent, with fire lines on the southern and western flanks and the rest of the fire moving toward homes.
Actress Heather Thomas recently sold a house in the threatened subdivision for $20 million. Vice President Dick Cheney's second home, north of the fire, was not in danger.
Fire officials have insisted that the cost of the celebrities' homes is not driving their efforts. They say the availability of so many firefighters and equipment is due to a lack of other major wildfires in the West.
About 150 people evacuated Wednesday remained unable to return to their homes.
"It's just gut-wrenching every day," said Karilyn Brodell, an area resident whose twin sister lives in a threatened subdivision.
Copyright 2018 The Associated Press. All rights reserved. This material may not be published, broadcast, rewritten or redistributed. We strive to uphold our values for every story published.