A semi-trailer truck flipped on a rain-slick Kansas Turnpike early Friday, blocking the westbound lanes for more than three hours.
It was one of 14 accidents in the turnpike corridor between Kansas City and Topeka that slowed and forced re-routing of rush-hour commuter traffic.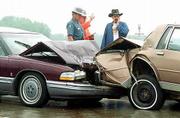 But apart from the lane-blocking overturned truck, turnpike officials said it was a typical rainy morning commute.
"It's pretty much routine when we get a little rain," said Capt. Mark Conboy, the operations commander for Kansas Highway Patrollers assigned to the turnpike. "It's primarily people traveling too fast for the conditions."
There were no serious injuries.
It wasn't that it rained hard Friday morning, Conboy said. In fact, it didn't rain hard enough.
"When it's not raining that hard, they still figure they can take it 80 miles per hour," he said.
The rains lasted from about 6 a.m. until 9 a.m. and dropped six-tenths of an inch on Lawrence, said Paul Mallone, a meteorologist at Weather Data Inc.
Here's what happened at the 8 a.m. semi-truck accident, according to Conboy and turnpike dispatchers:
About 3 miles east of the East Lawrence exit, a 1999 Freightliner semi-trailer truck started sliding toward the ditch. The driver, William McKarney Jr., 49, attempted to steer out of the slide.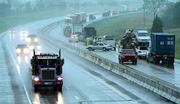 As the trailer slid toward the ditch, it flipped onto its side, came back onto the road, and went up the center barrier wall. After taking out six barrier sections, the truck came to rest with the trailer in the road and the tractor on the wall. One east-bound lane and both west-bound lanes were blocked.
McKarney was not injured. A passenger, Archie Romero, 43, suffered fractured ribs. He was treated and released at Lawrence Memorial Hospital.
The westbound lane was blocked until 11:20 a.m., when one lane was opened. Before the turnpike could be completely reopened, the truck, owned by Midwest Transit, of Sumner, Ill., had to be emptied of the U.S. mail it was carrying.
At 3:30 p.m., all eastbound and westbound lanes were completely reopened.
Troopers were kept busy responding to accidents all morning, Conboy said.
At 8:55 a.m., a three-vehicle accident occurred just west of the East Lawrence exit as cars merged to one lane because of previous accidents. One driver received air bag burns on her arm and was treated at the scene.
Copyright 2018 The Lawrence Journal-World. All rights reserved. This material may not be published, broadcast, rewritten or redistributed. We strive to uphold our values for every story published.