West Palm Beach, Fla. — Calling Nathaniel Brazill dangerous, scary and remorseless, prosecutors and the family of murdered teacher Barry Grunow tried Thursday to convince a judge to impose a life sentence for the crime the teen committed when he was 13 years old.
Wennet will announce today how much time Brazill should spend in prison for shooting Grunow, his English teacher, outside a classroom full of children on the last day of school last year. Under the state's 10-20-Life gun crime law, the now-14-year-old will be sentenced to a minimum of 25 years and could get life without parole for his second-degree murder conviction.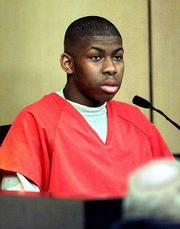 Grunow's brother, Kurt Grunow, asked that Brazill be given a life sentence.
"We could all make the most eloquent speeches . . . but in the end, it doesn't make any difference, because Barry is still dead, and he's not coming back," he said.
"Barry's children have been given a life sentence without their father, and that's a more cruel punishment than anything you could give the murderer."
Wearing a baggy orange jail uniform and shackles, Brazill sat stoically through eight hours of testimony, showing no emotion when his mother, Polly Ann Powell, broke down in tears on the stand, or when he read from a written statement.
"Words cannot explain how sorry I am, but that is all I have," Brazill said in the same low, steady voice he used when testifying during his three-week trial in May.
"Mr. Grunow was a great man and a great teacher and I'm sorry I took him away from you. I have been thinking a lot about how his kids will feel when they're my age. I think about Mrs. Grunow and how lonely she is. As I look back on that day, I wish it had not happened and that I could bring Mr. Grunow back."
Brazill watched as Barry Grunow's widow, Pam, read from a brief written statement that she didn't have a recommendation on the boy's sentence. She has avoided the trial, reporters and television cameras to stay home with her 4-year-old son and nearly 2-year-old daughter.
"I do not know what price Nathaniel should pay for taking Barry's life," Pam Grunow said. "Nathaniel has consequences to face and everyone must consider the cause."
Copyright 2018 The Lawrence Journal-World. All rights reserved. This material may not be published, broadcast, rewritten or redistributed. We strive to uphold our values for every story published.