Toronto — He has a narrow face with curly hair that is starting to thin on top. A light goatee adorns the strong chin, below a tight mouth, straight nose and blue-green eyes.
The subject is supposed to be William Shakespeare at age 39, in what a Canadian man believes is the only known portrait of the Bard created when he was alive from 1564 to 1616.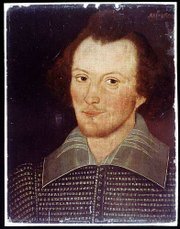 Tests date the 17-by-13-inch portrait to the early 17th century, and crowds at the Art Gallery of Ontario, where the portrait is on display, go away convinced the painting is authentic.
Alas, historians are familiar with false claims of authentic Shakespeare artifacts.
"I'm very suspicious," Stanley Wells, chairman of the Shakespeare Birthplace Trust in Stratford-on-Avon, England, said when news of the painting first emerged in May.
The owner of the painting, who has asked to remain unidentified, said it had been handed down through 12 generations in his family. The man said his family traces its lineage to John Sanders, the portrait's reputed painter.
Sanders' name appears on lists of players in playbills of the era for various theatrical companies, including that of Shakespeare's troupe, the King's Players, the man told the Globe and Mail newspaper.
A label on the back of the portrait reads: "Shakspere, Born April 23 1564, Died April 23 1616, Aged 52, This Likeness taken 1603, Age at that time 39 ys"
A research scientist at the Canadian Conservation Institute said tests have verified that date. "The basic portrait is the original painting," said Ian Wainwright of the institute's analytical research laboratory. "Of course, the person in the painting is still a mystery."
Wells, however, said there was no known actor named John Sanders at the time. He also said it was unlikely a painter would add a label to a portrait that included the dates of the subject's birth and death years after the painting was completed.
Copyright 2018 The Associated Press. All rights reserved. This material may not be published, broadcast, rewritten or redistributed. We strive to uphold our values for every story published.