Easton, Mo. — After Gene Meade retired from Mead Products he built a tiny church on Church Street near his home in Easton.
The Every Day Church welcomes guests with a sign that reads "Yes, We're Open." And it means 24/7/365.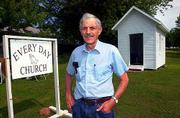 Meade, 65, says he had the idea after seeing a similar country church in Iowa when he was vacationing there years ago. But the project's inspiration came directly from God.
"I just want people to know there really is a God, there really is a Jesus, there really is a Holy Spirit and that the blood of Jesus is very important," he says.
Over in Clarksdale, Mo., Gene Conley also built a small chapel on his property on the north edge of Clarksdale on Missouri Highway 31. The Little Country Chapel, also always open, sits on two wheels and has a wrought-iron fence and zinnias around it.
"We did it in memory of my folks and my wife's folks and a daughter-in-law that died of an asthmatic heart attack," Conley, 83, says.
The Conleys had the idea to build their chapel in 1989 after visiting a similar little country chapel in Promise City, Iowa.
"I said to my husband, 'I'd sure like to have a little church like that'," Deloris Conley says.
Conley, a retired pipe welder for Plumbers and Steamfitters Local No. 45, used oak to build the altar and pine for the pews, which seat 12. Five weddings have taken place in the chapel, the two say proudly.
In Easton, the tiny white church shares lot space with Meade's home at 501 Church St., where he has lived since 1965. He started building the church last fall and completed it this past spring.
Inside the small one-room structure are two chairs facing a table that contains a statue of the Last Supper, religious books and tapes to borrow and a cued-up tape player with messages from Meade recorded on it. In a similar vein, music plays when visitors open the door at the Little Country Chapel, Conley says.
On one of his audiotapes, Meade says he became a believer on May 3, 1976. He says he asked a friend at work why he seemed so happy all the time. His friend invited him to a revival, and afterward when he was doing his job as a printer, he had a religious awakening.
"I thought that night, there must be a God, there has to be a God. It was peace, love, security, comfort, the whole works and my life changed that day. It doesn't matter who people are, God's love in you will flow out to them. It's the most wonderful thing that has ever happened to me in my life," he says.
He's had some community response to the church.
"One person asked if she could come there and pray and I said yes."
The Conleys say they had 1,500 visitors in the year or so after their chapel was built. If they're outside, visitors talk with them.
"We had a minister stop the other night and get some literature. He was from the Baptist church over at Cameron," Deloris Conley says. "It has been such a joy to see people come and go. I always said if it could save just one soul, it was worth it. That's my motto for it."
The Conleys are longtime members of the United Methodist Church at Clarksdale. Brought up in the Baptist tradition, Gene Meade now attends Word of Life Church.
He attributes his improved life situation these days to a book titled "What to Do on The Worst Day of Your Life," written by Word of Life's pastor, Brian Zahnd.
"Life is a lot better," Meade says. "I still have problems but thanks to Brian Zahnd's book, ... now I go to God first."
Copyright 2018 The Lawrence Journal-World. All rights reserved. This material may not be published, broadcast, rewritten or redistributed. We strive to uphold our values for every story published.