Decades before President Bush asked Congress to let religious charities compete for more taxpayer dollars, the federal government began a financial relationship with faith-based groups that continues today.
Each year, hundreds of millions of dollars in public money goes to U.S.-based religious agencies for their work in foreign countries. The money pays for famine relief, new schools and treating AIDS patients, among other things.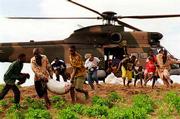 Catholic Relief Services, an arm of the U.S. Conference of Catholic Bishops, gets 57 percent of its funding from the government.
World Relief, run by the National Association of Evangelicals, gets 47 percent. At World Vision, another conservative Protestant group, the figure is 19 percent.
Some of the agencies, such as World Vision, take an applicant's religion into account when hiring, which is allowed under federal law.
Others ask only that their employees be dedicated to helping the poor. For many, church doctrine guides their projects. Catholic Relief Services, for example, will not distribute condoms as part of its AIDS programs.
"Basically, we do what we believe," said Kenneth Hackett, executive director of Catholic Relief Services.
Few complaints
About one-quarter of the $4.3 billion distributed by the Agency for International Development last year was given to U.S.-based private nonprofits, according to the Office of Management and Budget.
The government does not calculate how much goes to religious groups. However, seven religious charities taken together received about $409 million from the government, or more than one-third of the grants.
A spokesman for the development agency said there have been few recent complaints about groups mixing religious and government-funded activities.
However, the development agency is still working with Samaritan's Purse following criticism that the ministry held prayer sessions in El Salvador villages this year before building temporary housing provided by the U.S. government. The charity blamed the breach on a few overenthusiastic volunteers.
The Rev. Barry Lynn, of Americans United for Separation of Church and State, said he knew of no other complaints about how government-funded religious groups operate overseas.
Wesley Pattillo, spokesman for Church World Service, the international humanitarian arm of 36 Protestant, Orthodox and Anglican denominations, said just helping others sends a message about Christians' faith. The government provides about 30 percent of his group's income.
"Church World Service sees relief and development as having its own value of witness without having to enter the narrow range of evangelism that you would think of normally, where you would seek to convert," he said.
Most of the agencies were created to serve World War II refugees, then expanded into famine relief and economic development programs, mainly in the Third World. Their work with the government became more formalized after the federal development agency was created in the 1960s.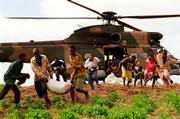 Making their beliefs known
Just as Bush has proposed in his faith-based plan for domestic charities, which won House approval last week, the international religious groups compete with secular nonprofits for federal grants.
The government now decides on a case-by-case basis whether the agencies are sectarian, then requires them to keep separate accounts for government and religious work. The agencies are audited regularly to ensure they comply and help people regardless of faith.
Still, none of the groups hides its beliefs. Each explains its creed in its promotional literature. Many post Scripture on their Web sites. World Vision posts daily prayer guides, sometimes asking supporters to pray that the organization receives federal grants.
In foreign countries, the agencies often plug into a network of local churches to deliver aid. In much of the Third World, churches are either the only or the best-organized philanthropic organizations, relief officials say.
Arne Bergstrom of World Relief, based in Wheaton, Ill., said staff based overseas are instructed to worship on their own time.
"Say we have a microenterprise development program. We would not in that program be passing out tracts or doing Bible teachings," he said.
Raymond Offenheiser, head of Oxfam America, a secular, international development agency that takes no government money, said complaints about religious groups were more common decades ago, when agencies entered developing countries thinking they knew best how to solve local problems.
But as the organizations took a more humble approach, tapping into local expertise and ceding control of projects to those who would benefit from them, much of the criticism dissipated, Offenheiser said.
"What we've seen is the major groups that we work with closely Catholic Relief Services, World Vision have been very good about working on a global level in all varieties of contexts, giving primacy to their humanitarian values," he said.
Copyright 2018 The Associated Press. All rights reserved. This material may not be published, broadcast, rewritten or redistributed. We strive to uphold our values for every story published.