Olathe — Serial murder suspect John E. Robinson must have adequate counsel, even if that means appointing a lawyer against the defendant's wishes, Johnson County prosecutors have told a judge.
Robinson recently replaced his court-appointed lawyers from the Kansas Death Penalty Defense Unit with a private attorney who has been practicing law only since May 2000.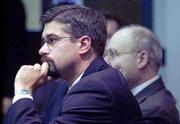 That move raised concerns for prosecutors that if he were convicted, Robinson could claim on appeal that he had inadequate representation during the trial.
Robinson, 57, is charged with capital murder in the deaths of two women whose bodies were found in sealed metal barrels on property he owned in Linn County. He is charged with first-degree murder in the death of another woman who disappeared in 1985. That woman's body has not been found.
Dist. Atty. Paul Morrison and Assistant Dist. Atty. Sara Welch filed written arguments Wednesday supporting their contention that a more experienced lawyer should be appointed to assist Robinson's hand-picked defender.
According to the U.S. Supreme Court, they said, "the essential aim of the (Sixth) Amendment is to guarantee an effective advocate for each criminal defendant rather than to ensure the defendant will inexorably be represented by the lawyer whom he prefers."
Morrison and Welch wrote that they knew "of no cases where a conviction has been reversed because of over-representation by counsel. We know of many convictions reversed because of under-representation by counsel, however."
Robinson's new attorney, Bob L. Thomas, said this week he has hired an investigator and plans to hire four or five "support staff."
However, he made it clear to District Judge John Anderson III that he intended to be the sole lawyer in the case.
In their filing Wednesday, the prosecutors noted that Kansas law allows for a criminal defendant to be declared partly indigent if his assets cannot pay for "effective representation."
State law calls for a judge to consider the "length and complexity of the anticipated proceedings" when determining a defendant's indigence.
Prosecutors said Robinson's case would be "extraordinary in length, complexity and issues."
"It is absurd to believe that the defendant has the wherewithal to fund effective representation in this case," the prosecutors wrote.
In an affidavit he filed last year, Robinson said his only income was about $1,000 a month in Social Security benefits, and his wife grossed about $700 a month.
Morrison and Welch suggested that at the very least, the judge meet with Robinson and his lawyer to inquire about his ability to pay for an effective defense.
Robinson is scheduled to go on trial Jan. 14.
He is also accused in Cass County, Mo., of killing three women whose remains were found in barrels in a storage locker that he had rented in Raymore, Mo.
Copyright 2018 The Associated Press. All rights reserved. This material may not be published, broadcast, rewritten or redistributed. We strive to uphold our values for every story published.