Khabarovsk, Russia — After midnight the lights went out in the Khabarovsk railroad station, and Russian guards with rifles went on the ready. Then, just before 2 a.m. a Moscow-bound train pulled in, carrying a mysterious and reclusive passenger: Kim Jong Il, leader of North Korea.
Historians believe Kim was born near Khabarovsk, but if the 20-minute stop had any sentimental meaning, he kept it to himself. The train took on supplies, and Kim never left it.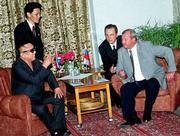 The 59-year-old Korean is reputed to hate flying, preferring a 10-day ride on the world's longest rail track for his third foreign trip during seven years as leader.
Although Kim didn't step out of the train today, he did greet Russian officials in the Russian border town of Khasan. Among those present was Larisa Denezhko, a Khasan woman who also welcomed Kim's father, Kim Il Sung, on a trip to the Soviet Union 13 years ago. The younger Kim chuckled as he looked at a picture of the occasion.
Russian officials say Kim is eager to see places associated with his father and predecessor as leader, who died in 1994.
Kim Il Sung, an anti-Japanese guerrilla fighter in Manchuria in the 1930s, crossed into the Soviet Far East during World War II and joined the Red Army. He was assigned to an infantry officers' school in Khabarovsk, on the border with China.
Many South Korean and foreign experts say his son was born near Khabarovsk in 1942. But official biographies say he was born at Paektu, the mountain where legend says Korea was founded.
Russian news reports say Kim is expected on Aug. 4 in Moscow for meetings with President Vladimir Putin, who has sought to renew Russia's relationship with North Korea that withered after the 1991 breakup of the Soviet Union.
Kim and Putin may also discuss military cooperation. North Korea's million-man army is equipped with Soviet-designed hardware.
Copyright 2018 The Associated Press. All rights reserved. This material may not be published, broadcast, rewritten or redistributed. We strive to uphold our values for every story published.