On Mount Etna, Sicily — With a wall of lava ominously inching toward a tourist center at the base of Mount Etna, Italy on Thursday sent army bulldozers up the mountain to build an earth embankment and stave off Europe's biggest, most active volcano.
The bulldozers were sent after a stream of lava destroyed three central pylons of Mount Etna's ski lift overnight, and were meant to reinforce the exhausted workers using backhoes to build protection around the base station, Rifugio Sapienza, and the nearby base of the ski lift.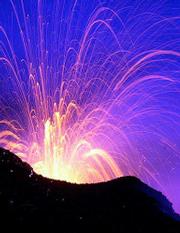 But the lava appeared to be speeding up, dimming hopes of saving Rifugio Sapienza. By nightfall, the lava had reached the station parking lot, which had been cleared of cars. About 10 bulldozers worked frantically to create barriers and prevent buildings from catching fire.
The lava was moving at about 66 feet an hour.
"We are fighting an enemy which is much stronger than man," said Nello Musumeci, a government commissioner.
Etna has been gushing lava from fractures on its southern slope for more than a week. Thunderous booms have accompanied the spurts of lava and blue-gray ash, which have reached hundreds of feet high.
The volcano had calmed down over the past two days but grew more active overnight.
"There's a new flow of magma which is going toward the tourist infrastructures. That's what's new," said Emilio Poma, a spokesman for the volcano monitoring center. "First there were just gas emissions. Now there's lava coming out of a new hole."
Mayon volcano
In the Philippines, volcanologists on Thursday raised the alert level around the Mayon volcano to the maximum of five from level three. Level five indicates an ongoing eruption and requires the evacuation of at least 18 villages at Mayon's foot.
The Mayon volcano erupted early Thursday for the second time in a month. Witnesses said Thursday's burst appeared more violent than a June 24 eruption that sent at least 50,000 villagers fleeing to evacuation centers. They returned less than two weeks ago.
The provincial disaster coordinating office said authorities were setting up emergency shelters and evacuating villages within 4 miles of the volcano.
Mayon has erupted at least 47 times since 1616. An ash mud flow buried a town and killed 1,200 people in the worst known eruption in 1814.
Copyright 2017 The Associated Press. All rights reserved. This material may not be published, broadcast, rewritten or redistributed. We strive to uphold our values for every story published.