Seattle — Microsoft Corp. Chairman Bill Gates compared the technology industry's plight to World War II, opening a meeting by quoting Winston Churchill.
"This is not the end. It is not even the beginning of the end. But it is, perhaps, the end of the beginning."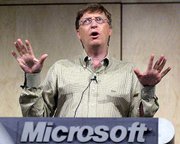 Gates said the digital economy circa 2001 was in a similar situation, except that the technology era was "going to take a little bit longer."
The message behind the remarks: As the high-tech industry experiences a dramatic downturn, Microsoft is intent not only on surviving, but thriving as well.
"It's a time of transformation in our business and in our business models," said Rick Belluzzo, Microsoft's president and chief operating officer.
During a meeting Thursday with financial analysts, Belluzzo eagerly outlined plans to expand into new fields such as personal digital assistants and game consoles.
That transformation also will include some belt-tightening, Belluzzo said. The company plans to add only half as many jobs in the fiscal 2002 as it did in fiscal 2001, which ended June 30. That translates into fewer than 4,000 new jobs.
But Gates and Belluzzo played down the cutbacks and offered an optimistic view of the future in which Microsoft can be as successful in the coming decade as it was in the last one.
The question is, can it work?
It doesn't seem too long ago that Microsoft regularly boasted yearly revenue and net income growth upwards sometimes way upwards of 20 percent. Microsoft benefited from the rapid growth of personal computers and the dominance of its Windows operating system.
But the world's largest software company isn't immune to the downturn in the U.S. economy. It has been hit hard by drastically lower demand for personal computers.
Sagging under the weight of a $2.6 billion charge for poor investments, Microsoft saw a 22 percent drop in earnings per share for the fiscal year ended June 30. Earnings per share were $1.32, down from $1.70 a year earlier.
Revenue grew 10 percent over fiscal 2000, to $25.3 billion from $22.9 billion. But the company warned that revenue expectations would be lower for the current quarter, which ends in September.
Jonathan Geurkink, an analyst who tracks Microsoft at Wells Fargo Van Kaspar, said the warning didn't come as a surprise: The company is known to be especially cautious when it fears a slowdown coming.
Still, he said, Microsoft simply may have gotten too big to sustain massive growth.
"They're going on to be a $30 billion-revenue software company, and pretty soon it's hard to grow that revenue at the rates that they have in the 1990s," Geurkink said. "It's just kind of 'law of large numbers' stuff."
Microsoft is intent on breaking those laws as it moves aggressively into new businesses. It already has had some success with a traditional model entering markets where more expensive competitors are faltering, and then offering cheaper alternatives.
Copyright 2018 The Associated Press. All rights reserved. This material may not be published, broadcast, rewritten or redistributed. We strive to uphold our values for every story published.