Thanks to someone armed with a red brick, the three months Cecil Leonard labored carving a wooden hobby horse for his mailbox were for naught.
Leonard, who lives in the 100 section of East 2300 Road in southeast Douglas County, became one of the latest victims in a spate of mailbox vandalism committed by a brick thrower.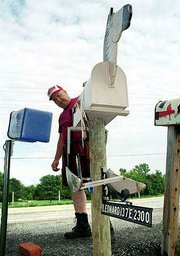 Nearly a dozen mailboxes have been damaged this month by the brick-throwing vandal or vandals, sheriff's reports show.
Tuesday, Leonard went to get his newspaper from a Journal-World box and found that the box had been struck by something with such force that it was knocked into the mailbox stand next to it.
The mailbox was adorned with a wooden hobby horse carved by Leonard. The legs and rockers of the horse, which sprouted from the bottom of the box, were broken.
Leonard had heard the reports of such vandalism elsewhere in the county, but he said he still was surprised by the attack. The brick thrown at his mail and paper boxes was found 60 feet away.
"They had to be traveling along the road pretty fast to throw it like that," Leonard said.
"I'm just glad they didn't hit the horse's head," he said, referring to the hand-carved head that crowned the mailbox.
Leonard estimated the damage at $50. The mailbox can still be used for mail delivery, he said.
Sometime Monday or Tuesday, residents in the 100 section of East 1700 Road and the 2000 and 2100 sections of North 900 Road reported damage to their mailboxes, Sheriff's Lt. Kathy Tate said.
July 15, a mailbox in the 300 section of East 1100 Road was damaged.
Other mailboxes damaged this month were in the 2200 section of North 100 Road, the 500 section of East 1700 Road, 500 section of East 2100 Road, and the 300 section of East 1100 Road.
Damage has ranged from $25 to $110.
Despite the similarities, sheriff's officers say they can't confirm that the same person is responsible for all of the incidents.
Copyright 2018 The Lawrence Journal-World. All rights reserved. This material may not be published, broadcast, rewritten or redistributed. We strive to uphold our values for every story published.