Fukuoka, Japan — Three weeks shy of his 20th birthday, Brendan Hansen has his first world swimming championship gold medal. He doesn't expect it will be his last.
"This is a huge stepping stone for me," the University of Texas student said Thursday after upstaging a glamor field to win the 200-meter breaststroke. "All the hard work is finally paying off. It will give me a lot of confidence."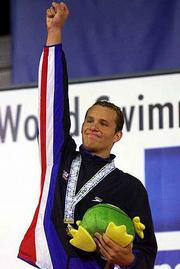 Hansen said his biggest career thrill before Thursday was breaking American Mike Barrowman's national record in the 200-yard breaststroke in the NCAA championships this year.
He did one better on Thursday, finishing in 2 minutes, 10.69 seconds, to break the 10-year-old meet record of 2:11.23, set by Barrowman in Perth, Australia.
He beat Maxim Podoprigora of Austria by two-fifths of a second. Kosuke Kitajima of Japan was third in 2:11.21, followed by Domenico Fioravanti, who won the 100-200 breaststroke double at the Sydney Olympics, in 2:11.31.
"This is unbelievable," Hansen said. "I knew I had a 2:10 in me. I just went into the race tonight and I didn't look around at all. I couldn't believe when I looked up that I was the winner."
Other gold medal races Thursday went predictably.
Victories by Olympic champions included Diana Mocanu of Romania in the women's 200 backstroke, Lars Frolander of Sweden in the men's 100 butterfly and Massimiliano Rosolino in the men's 200 individual medley.
In the women's 50-meter butterfly, not previously contested at the Olympics or world championships, world record holder Inge de Bruijn won comfortably for her second gold of the meet.
Copyright 2018 The Lawrence Journal-World. All rights reserved. This material may not be published, broadcast, rewritten or redistributed. We strive to uphold our values for every story published.