Driving across Kansas could soon be much more colorful.
Miles-long corridors of native grasses and wildflowers eventually will replace the roadside monotony that comes with repeated mowing.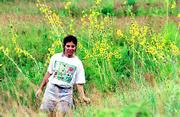 "I have this vision of someday driving down K-10 and seeing it full of big bluestem, Indian grass, little bluestem, echinacea coneflower and prairie blazing star," said Margit Hall, a University of Wisconsin-educated botanist who moved to Lawrence in 1999 to get involved in organic agriculture and prairie restoration.
Hall has volunteered to serve on a citizens committee formed to help the Kansas Department of Transportation move toward a more nature-friendly mowing policy.
"I can't think of a better way for people in urbanized areas to learn to appreciate the natural beauty of the prairie," Hall said.
Since February, KDOT and Audubon of Kansas have been gathering volunteers to help measure the effects of reduced mowing along 10 test strips in the eastern third of the state. Each strip will be several miles long.
So far, eight of the 10 strips have been selected. KDOT officials are still evaluating sites in Johnson and Franklin counties.
"It's taking us longer than we expected," said Fred Markham, a landscape architect with KDOT.
Eventually, the teams will monitor the presence of native plants along each strip, keeping track of how well they fare under reduced mowing. They'll also monitor erosion.
The findings will help KDOT overhaul its mowing polices.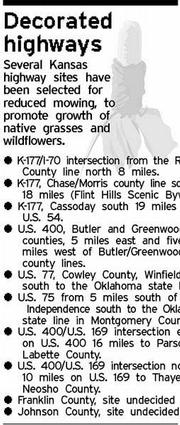 "The goal is to find ways to be more efficient," KDOT spokeswoman Kim Stich said. Mowing costs the department $4 million a year.
"Native grasses require less work, they help control erosion, and they're a lot prettier to look at," Stich said. "We see this as a win-win situation."
But the move to reduced mowing is not as simple as it sounds.
"Different grasses do better in different parts of the state, and noxious weeds might be a problem in one part of the state and not in another," Stich said. "There are lots of things to take into consideration."
KDOT expects to continue mowing at least a 15-foot strip along both sides of the state's highways, she said. Areas would not be left unmowed for more than three or four years.
Other states have found that native grasses significantly reduce the amount of snow on the highway.
"They act as a living snow fence," said Ron Klataske, executive director of Audubon of Kansas. "There's definitely a safety factor in leaving the outer parts of the right of way unmowed."
And there's reason to believe that less mowing will lead to fewer vehicles hitting deer, Klataske said.
"We'll have to see, but the anecdotal evidence at this point is that mowing promotes fresh regrowth, which in the fall, winter and spring attracts deer to the highways," he said. "The unmowed areas tend to be more rank, less tender, and not as attractive," Klataske said.
So far, neither KDOT nor Audubon of Kansas is predicting when the new policy will take effect.
"We're making progress, but we're still on the launching pad," Klataske said.
Copyright 2018 The Lawrence Journal-World. All rights reserved. This material may not be published, broadcast, rewritten or redistributed. We strive to uphold our values for every story published.