During the course of several days in Kansas, Mari Takeuchi of Hiratsuka, Japan, has been on a whirlwind tour of museums, classrooms and meetings with government officials.
So what's her favorite thing about Kansas so far?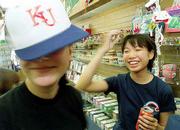 "Shopping," the 17-year-old said with a smile Thursday.
Takeuchi is one of 20 students from Hiratsuka, one of Lawrence's sister cities, visiting this week as part of an exchange program between the two cities. It's the 11th group to visit Lawrence since 1989. The delegation arrived Tuesday and will depart Aug. 1.
Wednesday, the group went to Topeka to visit the Capitol and the Kansas History Museum and yes, do some shopping at a mall there. Thursday, the students took a morning tour of Lawrence City Hall, then saw a demonstration of city emergency equipment before spending the afternoon doing some more shopping.
"They had a ball," said Lawrence resident Sharon Holladay, who is helping coordinate the visit.
The Lawrence hosts were helped by the fact that most Japanese students start learning English during their junior high years.
"They speak a lot more English than we speak Japanese," Holladay said.
Takeuchi said Lawrence is "a really good place. All of the people are so kind. It's really beautiful."
It is different from Japan, however.
"Lawrence has a lot of farms, but in Hiratsuka there's not so many farms," she said. "And here they're so big."
Another student, Hayato Isoda, 16, noticed other differences.
"The street is dirty," he said.
And the food here, he said, tends to be higher in calories than what he's used to back home.
"And so sweet," Takeuchi said. "But I like it."
Lawrence resident Berta Woolard, co-president of Friends of Hiratsuka, said the visit is beneficial to both sides.
"Lawrence benefits, because in return, our children can go over there," Woolard said. "The host families and all the people involved, it's a delightful time for us, with all the friendships that you make."
Copyright 2018 The Lawrence Journal-World. All rights reserved. This material may not be published, broadcast, rewritten or redistributed. We strive to uphold our values for every story published.