Washington — The lawyer for Chandra Levy's family raised the possibility Thursday of a lawsuit against Rep. Gary Condit if police are unable to solve the former federal intern's disappearance.
"It is clearly an option, and it is one that the family will consider at the appropriate time," attorney Billy Martin said in an interview with The Associated Press.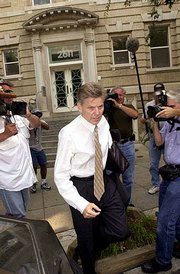 The suit would allow Levy's family to seek answers in court about their daughter's disappearance, but it won't be considered while the police search for Levy continues, the lawyer said.
Martin, who represents Robert and Susan Levy, said the family is not accusing Condit of wrongdoing but that he cannot rule out Condit's involvement in Levy's disappearance.
"We'd hope to one day be able to do that," Martin said. Police have said repeatedly they do not consider the California Democrat a suspect. Condit admitted an affair with Levy, 24, during his third interview with police earlier this month, police have said.
Marina Ein, a Condit spokeswoman, declined to respond to Martin's comments. She said Condit is cooperating with police.
Martin said Condit's behavior has raised suspicions. "Why would he act as though he had something to hide?" Martin said. "We just want to figure out why he's acting that way."
"It could be that the dark side of his life is being made public and he's an elected official. Or it could be he had something to do with Chandra's disappearance," Martin said. "I don't know what it is."
Levy was last seen April 30 when she canceled her membership at a Washington gym. Police believe she used her laptop computer until about 1 p.m. the following day, after which her trail ends.
An ongoing search of Washington parks turned up no clues Thursday, police said.
Meanwhile, Condit aide Michael Dayton denied a report in USA Today that he urged a former Condit staffer not to cooperate with investigators in the Levy case. "It's absolutely not true," he said.
Joleen McKay, of the San Francisco area, told the newspaper that Dayton told her not to talk about the affair she says she had with Condit. McKay is the second woman asserting she had been encouraged by Condit or one of his representatives not to talk with investigators about a relationship with the congressman.
Condit has denied asking anyone not to cooperate with authorities.
Copyright 2018 The Associated Press. All rights reserved. This material may not be published, broadcast, rewritten or redistributed. We strive to uphold our values for every story published.