Thursday's drizzle rained temporary relief on Douglas County but it won't be enough to ease an impending water shortage in Rural Water District No. 5.
The district, which serves southwest Douglas and northwest Franklin counties, is asking its 867 customers to voluntarily curtail outside water use. Otherwise, it will have to institute mandatory measures and police water use.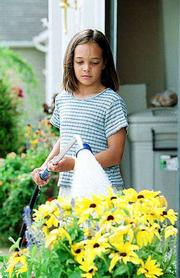 "Our problem is we need to supply water to everyone, but we also need to have fresh water in our water towers. That's hard to do if it's not ever getting there because it's just going right on by because usage is so great," said Sharon Dwyer, district business manager. "We need some catch-up time to refresh water in towers."
Officials with the City of Lawrence and other water districts in the area say they're not experiencing shortages.
"Things are going pretty well with us right now," said Roger Coffey, the city's director of utilities. "This cold spell and some of the showers have really given us some reprieve. I guess it will probably be short-lived."
Coffey said the city's highest demand day this summer topped out near 23.5 million gallons about 89 percent of its 26.5 million gallon capacity. The city doesn't start to worry until usage hits 95 percent, Coffey said.
Douglas County Rural Water District No. 2 attributes its under-capacity summer to a letter it sent to patrons in June.
To reduce water loss from evaporation, water the lawn slowly and only during cool, windless periods. Lawns only need to be watered every five to seven days in the summer. Water your lawn early in the morning and not in the heat of the afternoon. Use hose nozzles that can be shut off when not in use or can be adjusted to a fine mist. A single hose left on uses nearly 300 gallons an hour. Be sure that permanent sprinkler heads are adjusted properly to avoid watering streets, sidewalks and driveways. Use a broom, rather than a hose, to clean sidewalks and driveways. Source: Lawrence utilities department
"We told people we were expecting a hot, dry summer and we would appreciate it if they would just use some common sense in using water," said Donna Markley, bookkeeper for the district, which serves 405 patrons south of Lawrence. "I really think it helped. Last summer, we went over our contract limit with the city."
The strain on District 5 may be the result of a needed equipment upgrade that is lagging behind schedule. The district is installing new pumps and water lines that should double its capacity.
Larry Wray, the district's general manager, said he expected the upgrade to be complete by midsummer next year.
"We're a year behind where I'd hoped to be," he said.
In the meantime, the district is hoping its customers will cut back on lawn and garden watering and car washing so it won't have to enact mandatory conservation measures.
"I don't really want to have to send out notices," Wray said. "It doesn't take a whole lot to help a lot."
Copyright 2018 The Lawrence Journal-World. All rights reserved. This material may not be published, broadcast, rewritten or redistributed. We strive to uphold our values for every story published.