Havana — Fidel Castro led more than a million of his compatriots on a march Thursday to celebrate the start of the Cuban revolution, trekking about 1 1/2 miles in a display of vigor after his fainting spell last month.
Wearing his olive green uniform and a less typical pair of white sneakers, the Cuban president, who turns 75 next month, vigorously waved a small Cuban flag as he stepped off down Havana's coastal Malecon highway.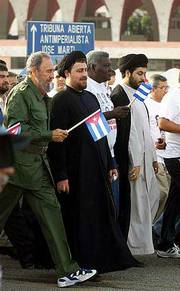 Castro marched for about 20 minutes, completing not quite half of the 3 1/2-mile parade route. State television estimated the number of participants at 1.2 million.
He did not address the crowd.
While Castro led a similar July 26 march in Havana last year, Cubans had wondered aloud if "El Comandante" would do so this year, following his brief fainting spell last month during a speech under broiling sun. It was the first incident of its kind during Castro's 42-year rule.
But after a few days of rest, Castro resumed his busy schedule. Castro and fellow communist leaders insist he is in good health.
Marchers protested the long-standing U.S. embargo and other American policies toward Cuba, and demanded the release of five Cuban agents convicted earlier this year in Miami on espionage charges.
Cuba contends the five men were merely gathering information about anti-Castro groups in Miami to defend their country against violent attacks.
"Free the patriotic heroes!" yelled the marchers, many of whom wore white T-shirts emblazoned with the five Cuban men, who are jailed in Miami awaiting sentencing.
Havana's demands for the men's release is the latest in a series of political campaigns following its successful fight for the repatriation last summer of Cuban boy Elian Gonzalez, now 7 years old. The boy's Miami relatives, backed by anti-Castro Cuban exiles in Miami, had fought to keep the boy in the United States.
July 26, known in Cuba as National Rebellion Day, commemorates the armed attack Castro led in the wee hours of July 26, 1953, on the Moncada army barracks in the eastern city of Santiago.
Sixty-one of 160 attackers were killed and many of the rest, including Castro and his younger brother Raul, were jailed.
But the movement later regained strength and eventually triumphed on New Year's Day 1959 after then-President Fulgencio Batista fled the country.
Lending an international air to Thursday's march was Hassan Khomeini, grandson of the father of Iran's 1979 Islamic revolution the late Ayatollah Ruhollah Khomeini. Invited to visit Cuba by Castro, the 29-year-old walked on Castro's left, dressed in his traditional Islamic robes and head covering.
Copyright 2018 The Associated Press. All rights reserved. This material may not be published, broadcast, rewritten or redistributed. We strive to uphold our values for every story published.