Washington — President Bush conceded Thursday he's had his struggles with Congress and is bound to have more, joking that "a dictatorship would be a heck of a lot easier." Still, he said the relationship is a healthy one after his first six months in office.
Bush received a parade of lawmakers at the White House to talk about the prospects for proposals on patients' rights and federal funding for religious charities.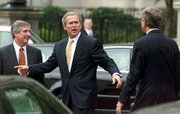 He then made a point of going to Capitol Hill for a brief personal session with House Speaker Dennis Hastert, R-Ill., who also is trying to get Congress to move on giving Bush expanded trade negotiating authority.
"Dealing with Congress is a matter of give and take," Bush said before his trip down Pennsylvania Avenue. "The president doesn't get everything he wants, the Congress doesn't get everything they want. But we're finding good common ground."
"A dictatorship would be a heck of a lot easier, there's no question about it," he said.
Bush said his first six months have been as constructive, if not more so, than those of his most recent predecessors. He noted that his tax cut is now law, as is a $1.9 billion boost in defense spending he signed just Tuesday in Kosovo.
"I feel great," Bush said. "And we're making great progress on a lot of issues."
Trouble ahead
However, signs of damage control were obvious. Bush met privately with Rep. Charlie Norwood, R-Ga., who has been trying to gain support among moderate Democrats for the patients' rights bill. He also met privately with Sens. Rick Santorum, R-Pa., and Joseph Lieberman, D-Conn., about his proposal to give federal money to religious charities, a priority among his campaign promises.
Bush predicted more trouble as House and Senate appropriators "try to bust the budget" he has proposed for fiscal 2002. "There are going to be some struggles," Bush said. "But they're going to find somebody who is going to hang tough on the budget."
Lieberman, who is drafting his own religious charities plan, said the president still feels strongly about including a highly contentious exemption allowing groups to hire according to religion.
"Right now, there are a great number of people hanging back, some outright opposed and the others highly skeptical," Lieberman said. "So, we've got a great deal of work to do."
While members of Congress wrangled Thursday over the patients' rights bill, White House aides denied that Bush's intensive lobbying indicated his legislative agenda is in trouble. They kept alive his threat to veto the patients' rights bill if it lacks provisions he wants, although Bush avoided that rhetoric himself.
"I am very pleased with the cooperative spirit in the Congress," Bush said. "I think the members of Congress have taken me seriously when I said I want a bill."
Element of surprise
White House spokesman Ari Fleischer downplayed the significance of Bush's visit to Hastert's office a relative rarity for a president. He said it was indicative of Bush's style, dating back to his days as governor of Texas, when he would do "surprise drop-ins" at legislators' offices.
"As president, it's a little harder to have a surprise," Fleischer said. "I don't think it matters what venue the president uses. The president is pleased to have meetings with members of Congress to discuss his initiatives and his ideas."
Bush also faces an uphill battle over trade promotion authority, which Congress granted to every president between 1974 and 1994 but denied to President Clinton twice. The White House, eager to solidify Bush's reputation as a world leader, is trying to tamp down criticisms, mostly among congressional Democrats, that Bush would use the authority to help big business at the expense of environmental and worker protections.
Copyright 2018 The Associated Press. All rights reserved. This material may not be published, broadcast, rewritten or redistributed. We strive to uphold our values for every story published.