Lawrence's Raiders probably wish they could have used some of those excess runs from their 12-3 victory on Tuesday night.
The Raiders hit the ball then, but couldn't muster much at the plate on Thursday night in a 6-4 loss to Blue Valley West in the second round of the Triple-A Legion zone baseball tournament at Free State High.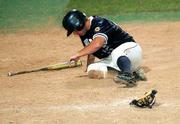 "I don't know what was up with our bats today," shortstop Matt Berner said. "I'm not sure how to get past this. We just haven't executed like we should."
The Raiders loaded the bases in the first and second innings, but produced only one run each time.
Berner hit an RBI single in the top of the first that scored lead-off hitter Dallas Worley, but center fielder Rob Scott was thrown out at home.
Troy Wingert followed with a walk to advance Berner to second and, after Derek Bailey struck out, Josh Swenson walked and loaded the bases. But a ground out by Kyle Unruh ended the inning.
"That was the key," Raiders' coach Carl Brooks said. "We loaded the bases two times and came away with run one run on each occasion. We didn't have any big hits early in the game and, if my memory is correct, if you squander opportunities like that you don't win."
In the bottom of the second Austin Burke, the Jaguars' No. 9 hitter, cleared the bases with a two-run single that gave Blue Valley a 3-2 lead.
In the next inning he did the same thing and the Jaguars took a 6-2 advantage.
"He's a real competitor," Brooks said of Burke. "He's obviously a good fastball hitter. Their coach is no dummy. he knows what he's doing putting that kid at the bottom of the order.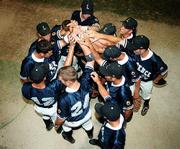 "That's why we have Chris Barr at the bottom of our order. he's a good fastball hitter."
Other than Berner, Barr was the only Raiders player to do any damage to Jaguars' pitcher Matt Faust. Barr singled and scored in the second inning on a Berner hit. He led off the sixth inning with another single and came home on a passed ball.
In the seventh, Barr stroked his third hit and Swenson scored to make the score 6-4.
BV West's three-run second and third innings were the only blemishes on Raiders' pitcher Eric Brown. Aside from those innings he only allowed two hits an infield single and a ground rule double and no runs.
The Raiders (29-17) will face Olathe East at 6 p.m. today in a losers bracket game. Bracket on page 8C.
Blue Valley West 6, Raiders 4
Lawrence 110 001 1 4 9 1
BV West 033 000 x 6 8 5
Eric Brown and Troy Wingert. Matt Faust and Ben Nash. WP - Faust. LP - Wingert.
Highlights - Berner 2-for-4, 2 RBI; Chris Barr 3-for-4, 2 runs, RBI; Eric Brown 8K.
Copyright 2018 The Lawrence Journal-World. All rights reserved. This material may not be published, broadcast, rewritten or redistributed. We strive to uphold our values for every story published.