Dallas — Instead of viewing his vacancy at quarterback as a question mark, Oklahoma coach Bob Stoops sees it as an exclamation point.
Stoops was one of six coaches who faced the press during the first of two Big 12 Conference media days Thursday at Dallas' Union Station, and one of two coaches Kansas State's Bill Snyder was the other who must replace their starting QBs from a year ago.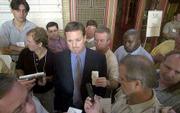 In Stoops' case, the departed signal-caller was Josh Heupel, who not only was a Heisman Trophy candidate, but also led the Sooners to a national championship.
"I look at it this way," Stoops said, "two years ago there wasn't anyone in this room or anywhere else bragging about Josh Heupel. He walked in, had the 15 days of spring practice and that's all he had practicing in our system.
"These young guys have been walking around for two years, preparing. We've got two guys that have had two years in the system. They know what we do so I couldn't feel better about it, honestly."
Those two guys junior Nate Hybl and sophomore Jason White have combined to complete just 10 of 18 passes for 153 yards and two touchdowns with two interceptions in 10 games. Hybl has accounted for the vast majority of that output, though, on 9-of-16 passing for 144 yards with two TDs and two INTs in five games last season. He transferred to OU from Georgia in the summer of 1999.
White played sparingly two years ago as a freshman, and played in just two games last season before being sidelined by a bad back and an ankle injury. He received an extra year of eligibility as a medical hardship.
"To break down each guy, I'm going to talk about one guy, in all honesty," Stoops said. "If you went out there and practiced and scrimmaged and halfway through it went in the locker room and switched jerseys on them, you'd have a hard time figuring out who's which.
"They're both strong. They're both 6-3, 6-4, depending on who takes those measurements. They're both about 220, 225, both athletic. They both can run. They both have strong arms."
There is one distinguishing characteristic between the two QBs, though.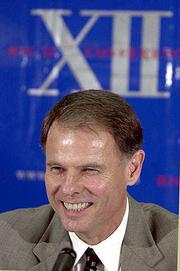 "About the only difference I can find is Nate's a great golfer," Stoops said, "and Jason's an excellent basketball player."
The Wildcats have to find someone to replace standout QB Jonathan Beasley. The most likely candidate is sophomore Ell Roberson, who was 10-of-23 passing for 119 yards with two TDs and two INTs last season.
"When we finish our season," Snyder said, "whoever was No. 1 at the end of the season will go into spring practice as the No. 1. Ell Roberson was ahead of all the other quarterbacks at that time, excluding Jon Beasley, who finished his eligibility. So Ell went into the spring as the No. 1 quarterback and did nothing to disrupt that position."
Perhaps the only team in the Big 12 that doesn't have any questions concerning its QB is Nebraska, which returns senior standout Eric Crouch.
Crouch had more than 1,000 yards both rushing and passing last season and 31 combined touchdowns. But while many consider him to be a Heisman hopeful, Crouch is anything but hopeful.
In fact, he recently had his sanity called into question during a conversation concerning the Heisman.
"He said, 'You've got to be crazy,' because I said I don't want to win the Heisman Trophy," Crouch explained, "and he looked at me like, 'What are you talking about?' There's just a lot of things that go along with winning the Heisman Trophy, things that can deter you from winning football games.
"No matter if it's talked about every weekend or it's dropped and never talked about again, I'm going to go out there and play my game of football and try to win games on Saturdays."
In Crouch, the Cornhuskers can boast a lethal two-way threat that not many teams in the country let alone the conference can match.
"Eric has been our big-play back," Nebraska coach Frank Solich said. "That's not always been the case at Nebraska, that the quarterback is the big-play back. We've had excellent runners at the quarterback spot. Eric is the fastest quarterback we've had at Nebraska. He's got great running ability."
So with the Crouch as the incumbent quarterback, nine starters returning on defense and eight home games this season, are the Cornhuskers set up for a run at the national championship?
"I feel set up by the question, not necessarily set up for a national title run," Solich quipped. "We really have less experience on this year's team than what we had on last year's team, I don't think there's any question about it. You always want to start with a guy like Eric.
"If you've got a quarterback coming back that's as talented as Eric is, I think that's a big step."
Copyright 2018 The Lawrence Journal-World. All rights reserved. This material may not be published, broadcast, rewritten or redistributed. We strive to uphold our values for every story published.