If you want to find out about the sport of BMX bicycle motocross try visiting Lawrence's skate park some time.
It's become a gathering place in town for people who love BMX. There they can test their skills on the park's concrete steps and ramps.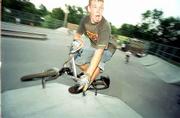 Damon Mar, 17, is a familiar sight in Centennial Park, Ninth Street and Rockledge Road. He got bit by the BMX bug about two years ago and paid almost a thousand dollars for his Standard brand bicycle.
"I'd seen BMX bikes in shops around town, and I saw people riding them around," says Damon, who will be a junior at Free State High School.
Now Damon, like a growing number of young people in Lawrence, seems to be hooked on BMX.
He rides his bicycle for six to eight hours every day. He even rides in the wintertime.
"It keeps you occupied a lot," Damon says.
"It's something that you can keep progressing with. You push yourself every day to learn new tricks."
BMX enthusiasts ride extra-sturdy, specially designed bicycles on a variety of surfaces and in different competitive settings.
There are BMX races held in Topeka and the Kansas City area, but many Lawrence enthusiasts say they'd rather just ride and do tricks for fun.
"Most people around here don't race; they do a different type of riding," says Joe Montgomery, manager of The Bike Shop, 818 Mass.
Montgomery, 25, says he and a few friends are trying to organize an all-BMX event at the Lawrence skate park soon.
There are several different kinds of BMX riding. There's freestyle, trick riding, stunts and racing, which can all be done on dirt trails, ramps and streets and in concrete skate parks.
BMX bicycles are built, and often highly customized, to let riders do acrobatic tricks and jumps like the moves that skateboarders perform.
The bicycles are sold at most bicycle shops in town, or they can be ordered over the Internet from manufacturers.
Lawrence BMX riders say they like to practice their tricks at the skate park and on the dirt trails and jumps near the East Lawrence Recreation Center, 1245 E. 15th St.
Some riders say they also like to go to skate parks in Topeka and the Kansas City area.
BMX is a sport and passion that is catching on locally.
"There seem to be more riders on the scene (in Lawrence)," Damon says.
He encourages beginners not to be intimidated by the sport.
"Anybody who's interested, don't be afraid to try it," he says. "You don't need an expensive bike. It's all about hanging out and riding with your friends."
Justin Fuert, 15, has been involved in BMX riding for a couple of years.
Justin, who will be a ninth-grader at South Junior High School, got interested in the sport by watching BMX events on ESPN.
"I'm getting pretty good at it, but I'm still learning," he says.
He likes to ride around town with his friends, looking for good places to attempt new tricks.
Jake Jordan, 12, started riding a BMX bicycle recently. For his birthday, he received a 2000 Fatboy 415 made by Specialized.
"It's really fun to do," says Jake, who will be a seventh-grader at West Junior High School. "You don't even have to be that good. It's just fun to go (to the skate park)."
He's learning to do tricks by watching other riders and then attempting them himself.
"You try over and over, and you fall a lot," Jake says.
Copyright 2018 The Lawrence Journal-World. All rights reserved. This material may not be published, broadcast, rewritten or redistributed. We strive to uphold our values for every story published.