Philip Foos wore his corn snake like a necklace as he waited to have it judged Saturday at the Douglas County 4-H Pet Show.
Across the room, a judge was examining one of the 51 cats entered in the show.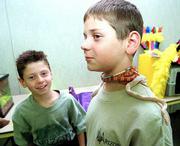 Felines are fine, Philip said, but reptiles are better.
"You only have to feed it once a day," said Philip, an 11-year-old who lives northwest of Lawrence. "It's fun to hold him and watching them climb around his cage. But most of the time, he's just hiding under his water dish."
The show featured 34 "hand pets," which basically encompass anything with scales or fur. Like the cats and dogs, the hand pets were judged in four categories based on their owners' ages, and an overall champion and reserve champion were selected.
Judge Denise Sours, a veterinarian technician in Tonganoxie, asked the 4-H'ers questions to test their knowledge of the animals. With so many types of animals, she said, she ends up learning a lot about the critters.
"I'm very concerned that kids know how to take care of their pets, to see if they've done research on their pets and know how to take care of them if they do get sick," she said. "They need to know what they've gotten into."
Lacy Deathe, 17, Eudora, knew exactly what she was getting into when she purchased an inland bearded dragon six months ago. She'd had lizards before, and she read all she could about this one before buying it.
"Everybody thinks they're all slimy and nasty, but you just have to get over the natural fear of things," she said. "I try to get a new one every other year. I had my chameleon a couple of years, and everybody oohed and aahed over it."
Jessica Ardahl's chinchilla was getting similar attention as it sat on her lap Saturday. The furry pet remained still despite the commotion around it.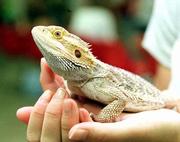 "I've always wanted a squirrel," said Jessica, a 14-year-old from Lecompton. "This is the closest thing I can have to a squirrel."
Minutes before they were to see the judge, brothers Justin and Jordan Ballock, Eudora, were practicing what they would say about their pets.
Jordan Ballock, 7, planned to tell the judge how his hermit crab changes its shell once every few months.
"They just slip out of it and go to a new shell," he said.
And, yes, the crab's pinchers hurt when they latch onto skin, he said.
Justin Ballock, 9, planned to say that "Scamper," his foot-long water dragon, will grow to be 3 feet long. Its diet includes crickets and lettuce.
"I've had crabs for two years," he said. "I just wanted something else."
Copyright 2018 The Lawrence Journal-World. All rights reserved. This material may not be published, broadcast, rewritten or redistributed. We strive to uphold our values for every story published.