During the rush to prepare for the Douglas County Free Fair some 4-H'ers took some time to dress up and show off last week.
4-H Style Revue participants, wearing everything from jeans and cowboy hats to prom-style formals, strutted their stuff last Friday to the theme of "Mardi Gras Masquerade."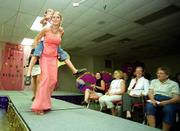 "It's really fun because you can really get into the theme each year," said Michelle Colgan, 14, of Lawrence, who was wearing a pink and white floral dress. Past themes have included the Olympics or a beach theme, she said.
About 150 4-H'ers modeled over 500 outfits, which they had constructed or purchased, said Trudy Rice, director of K-State Research and Extension-Douglas County.
"The purpose of the project is for them to gain some lifeskills and good presentation skills," Rice said.
After competing on Thursday night, participants were able to show off their presentation skills during the public style revue on Friday.
Clint Hornberger, 18, of Baldwin, repeated as the boys champion. He wore a green jacket, shirt and tie, and dark slacks.
Hornberger said he was looking forward to the state fair competition.
"I was privileged to go last year," he said. "It's quite a deal over there, and I can't wait to go back."
Originally, the 4-H style revue was for construction projects, Rice said. But in the past 20 years, a "buymanship" category has been added because fewer students sew.
"I think the competition is an opportunity to showcase what the 4-H'ers have done," Rice said. "Most important is the consumer skills they learned, wise use of money and care for the clothing they buy."
Paris Nottingham, 7, of Lawrence, participated in the fashion revue for the first time. She wore a pink and orange floral outfit with a white T-shirt and pink sandals. She also will participate in the arts and crafts and cooking competitions, and show sheep and horses.
"I thought it was going to be fun and interesting," Notthingham said. "I really enjoyed it."
Cybill Milburn, 15, Baldwin, said the popular styles of clothing had changed a lot since she first entered the revue at age 8. This year, she wore a striped purple polo, a K-State visor, flare-leg jeans and white canvas shoes.
Melissa Colgan, 18, of Lawrence, was the girls champion in the buymanship category. She wore a hunter green, beaded formal. This was her eighth fashion revue.
"The fashion revue is a chance to show people what they've done through the year," she said. "For the kids, it's a chance to show of their own unique style."
Copyright 2018 The Lawrence Journal-World. All rights reserved. This material may not be published, broadcast, rewritten or redistributed. We strive to uphold our values for every story published.