Topeka — Electric customers in Lawrence and northeastern Kansas are facing higher rates even as customers elsewhere in the state will see rates drop under a new state order.
Western Resources Inc. on Wednesday was ordered to reduce its overall electric rates, but it could raise rates for KPL customers in northeastern Kansas as much as 3.3 percent.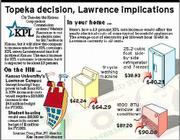 The order by the Kansas Corporation Commission fueled speculation about whether Western's $4.4 billion plan to merge with Public Service Co. of New Mexico would go forward.
The order cut Western's overall rates by 1.9 percent, a decision that will cost the company $22.7 million in revenues annually. That was a far cry from Western's request for a $151 million rate increase, which it said was needed to cover the costs of building additional electric generating capacity and higher operating costs.
Under Western's request, rates for KPL customers would have increased 19 percent. Rates for KGE, which serves customers in south-central Kansas, would have increased 10 percent.
How the rate changes will affect individual classes of customers such as residential, business and industrial has yet to be decided. The KCC gave Western until Sept. 20 to propose a rate schedule. After a review of that proposal, KCC officials said they hoped to have new rates in place by spring.
Merger implications
Company officials earlier said the KCC's decision could affect the deal with PNM. In addition, the KCC last week rejected a proposal by Western to reorganize its business structure.
Neither Western nor PNM would say whether the KCC order would nix the proposed merger.
"We're reviewing the order and will meet with PNM soon," said Kim Gronniger, a spokeswoman for Western.
On Wall Street, Western stock fell $1.30 to $17 per share in trading on the New York Stock Exchange. Shares in PNM gained $2.34, to close at $29.67 per share.
In a prepared statement, Gov. Bill Graves, a personal friend of Western chief executive David Wittig, said he respected the KCC decision and hoped it would "allow Western Resources to continue to provide affordable and reliable electric service to customers of central and eastern Kansas. Western Resources is a valuable corporate citizen and plays a significant role in the state's economic success."
Topeka-based Western is the largest provider of electric power in Kansas, serving 635,000 customers through its KPL and KGE divisions.
The company has been rocked by financial problems since it ventured into nonutility businesses, specifically the acquisition of Protection One, a home security business.
'Over-earning' utility
In its order Wednesday, the KCC said it determined that Western was "over-earning" and ordered rates paid by KGE customers in south-central Kansas to be lowered by $41.2 million, or about 6.6 percent decrease in revenue.
But the order permits Western to increase charges to KPL customers in northeast Kansas by $18.5 million, for a 3.3 percent increase in revenue.
The rate increase granted KPL was attributable to the addition of 514 megawatts of new generation capacity necessary to provide electric service to KPL customers, the KCC said.
The reduction for KGE is based upon the KCC's belief that the operating license of Wolf Creek nuclear plant can be extended at least through 2025. The reduction also brings KGE and KPL rates more closely in line.
Currently, KGE customers pay as much as 25 percent more for electricity than do KPL customers.
"We are confident that this is a fair and balanced decision for consumers and the company," KCC Chairman John Wine said in a prepared statement.
The 52-page order included a provision that the commission could adjust Western's rates further in the event of a company reorganization. If such a reorganization leaves Western's utility operations saddled with excessive debts, the commission said, it could cut rates another $49.2 million, or 4.1 percent.
Criticism leveled
The KCC order Wednesday was its second decision in five days affecting Western.
On Friday, the KCC ruled that Western's plan to split the company and sell the utilities to PNM was unfair to ratepayers because it transferred debts from Western's other businesses, such as Protection One, to the utilities and the ratepayers.
As in Friday's ruling, the KCC on Wednesday criticized Western management and discounted the company's proposal to have ratepayers pay for many of the expenses of its top executives.
The KCC said Western's accounting procedures for determining those expenses, such as flying on corporate jets, were "so deficient as to require immediate remedial action."
The KCC ordered Western to provide a revised method for determining expenses of top executives between utility and nonregulated businesses.
Consumer advocate pleased
Walker Hendrix, consumer counsel of a state agency that represents consumers, said he was pleased with the KCC's decision. "Western is going to have to act more like a utility instead of an investment banking firm," Hendrix said.
Hendrix said the rate decision should not affect Western's proposed merger with PNM. But, he said, the merger would have to be restructured to reduce the debt on the utilities, and that may hurt compensation packages for Western's management team.
In New Mexico, state officials were closely watching the KCC actions.
Any proposed merger would have to be approved by both the KCC and the Public Regulatory Commission of New Mexico.
"We are concerned with some of the same issues that the Kansas Corporation Commission is concerned about" regarding Western, said Carol Baca, director of regulatory law enforcement for the New Mexico attorney general's office.
Copyright 2018 The Lawrence Journal-World. All rights reserved. This material may not be published, broadcast, rewritten or redistributed. We strive to uphold our values for every story published.