Some Lawrence residents want to see more evidence of vision guiding the city's economic development.
"The discussion needs to start with what does the community want, what kind of community we want," Karen Anderson said Monday night. "And then we have to have some kind of plan."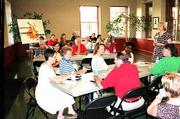 Others echoed Anderson's thoughts Monday during a free-ranging discussion on business growth that was the third part of The World Company's "Lawrence is Growing: Finding Common Ground" series of forums. Nearly 30 people attended.
Anderson said the big picture of economic development often is lost in the details.
"It seems like we argue about Home Depot and retail stores and tax abatements instead of what we want," she said.
Bea Dewing, another forum participant, agreed.
"The communities that I know of that have been successful have started with a vision," Dewing said. "You have to know where you're going; if you don't know where you're going, any road can get you there."
Shirley Martin-Smith, co-chair of the city-county Economic Development Board, argued that a vision does exist: a 20-page section of Horizon 2020, the city-county long-range planing guide.
Few people are aware of the section, Martin-Smith said, which complicates discussions about the future of economic development.
"That's unfortunate," she said. "We've got to have a good solid understanding before we make decisions."
The economic development section of the guide was adopted in 1994. Martin-Smith said the board is looking at revising the plan and will tour the county to take public input.
"The plan is to share with the public what the plan is," she said. "We haven't ensured that the public knows about it."
Other forum participants suggested two main needs for economic development in Lawrence:
l Finding land, and perhaps constructing new buildings on a speculative basis, to make available for prospective businesses.
"We need some space available," said Mike Harrell, a forum participant. "Companies aren't going to wait for the five-year development process we've been putting them through. They need the space now."
l A stronger economic development partnership with Kansas University.
Former Mayor Erv Hodges suggested that KU's status as the city's biggest employer isn't always helpful.
"Our largest industry is tax-exempt," he said.
Martin-Smith said the economic development plan calls for such a partnership but that it hasn't fully materialized.
"It's been very challenging," she said. "But I'm optimistic those lines of communication are growing."
Arly Allen, a forum participant, said economic development was at the root of most of Lawrence's growth-related challenges.
"We're dealing with a conflict situation," he said. Economic development "is changing the way we do things, it's changing the tax base, it's changing our expectations and it's changing our community."
The next forum on traffic issues will be at 7 p.m. Aug. 6 at the Lawrence Visitors Center, 402 N. Second St. Findings from all six forums will be presented to community leaders during a Sept. 17 gathering at Liberty Hall.
Copyright 2018 The Lawrence Journal-World. All rights reserved. This material may not be published, broadcast, rewritten or redistributed. We strive to uphold our values for every story published.