Pau, France — Stronger, faster, leaner than ever before, Lance Armstrong is turning this year's Tour de France into a Tour de Force.
A rare third consecutive title in the world's toughest cycling event is within easy reach six days from the finish, thanks to his stunning performance in the Alps and the Pyrenees.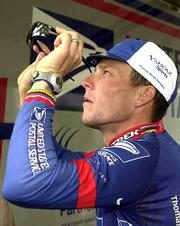 But more impressive is the Texan's complete domination of the field that has rivals and observers in awe.
"Simply unbeatable," is how Armstrong's main challenger, Jan Ullrich of Germany, described the two-time champion and cancer survivor. "This year, he is stronger then ever."
Armstrong took a big lead in the five mountain stages of the Tour, with Monday a rest day. The remaining six stages are flat and unlikely to change the standings significantly.
Competition resumes Tuesday with a stage between Pau and Lavaur in southwest France. The race ends in Paris on July 29.
Ullrich, the 1997 champion, is widely regarded as in his best ever form. Yet in almost every mountain stage, he has pulled ahead of Armstrong only to be overtaken and left stranded in the final stretch.
"I don't know what I should do," Ullrich said after Armstrong won the grueling first mountain stage between Aix-les-Bains and L'Alpe d'Huez. "I did everything well except for Lance."
The Team Telekom rider had led the main pack for most of the day when, at the foot of the last climb, Armstrong moved in front. He looked behind, staring into Ullrich's sunglasses, then sped off into the distance.
A familiar pattern emerged in two other mountain stages: the stretch from Perpignan to Plateau de Bonascre and the leg between Foix and Pla d'Adet, which Armstrong won.
He also triumphed in the uphill time-trial from Grenoble to Chamrousse, taking the start after Ullrich and slashing one minute off the German's blistering time.
"Lance Armstrong once said that Jan Ullrich is the greatest talent in cycling. This doesn't seem to be the case," Ullrich said afterward. "But I am not giving up, despite everything, and I'll try everything. I've never been in such good shape."
He did beat Armstrong once in Sunday's Tarbes-to-Luz-Ardiden stage but that was because the Texan let him.
"At this point, it's not worth being any more aggressive than we need to be," Armstrong said of his fourth-place finish behind Ullrich.
By the time Armstrong reached Luz-Ardiden he was in the overall lead, ahead of Ullrich by 5 minutes and 5 seconds an almost unbeatable advantage with only six flat stages remaining before the race finish in Paris on July 29.
"This year, we worked even harder than we did in 1999 and 2000," said the U.S. Postal Service rider, explaining his performance. He won the first title after an extraordinary comeback from life-threatening testicular cancer that required brain surgery after it had spread.
The dedication hasn't escaped the attention of his rivals.
"Armstrong is someone who lives 12 months a year, 24 hours a day, for his job. That's the difference with Jan," said Ullrich's team manager, Walter Godefroot. "Armstrong is an exceptional champion, who takes his place among the all-time greats."
Armstrong has been dogged in France by speculation about drug use. On Monday, he said this was inevitable because of cycling's tarnished reputation: the 1998 Tour de France was nearly wrecked by a doping scandal that led to the conviction of several people.
"I have a questionable reputation because I'm a cyclist," he said. "People love to single out cycling. This is an issue of sport. The problems are not exclusive to cycling or the Tour de France or Lance Armstrong."
Armstrong admitted that his relationship with Dr. Michele Ferrari, an Italian linked to drug use, might appear questionable and said he would review it after the doctor's September trial.
But Armstrong reiterated that he believes Ferrari is innocent.
"People are not stupid," he said. "They will look at the facts. They ill say: 'Here's Lance Armstrong. Here's a relationship. Is it questionable? Perhaps."'
"But people are smart," he continued. "They will say: 'Has Lance Armstrong ever tested positive? No. Has Lance Armstrong ever been tested? A lot."'
Armstrong has never failed a drug test.
Even the most experienced observers agree that Armstrong is set to become one of cycling's legends.
"We can already say that he is a great champion," said Jacques Augendre, a former journalist and now the race's official archivist, who is covering his 50th Tour de France. "Armstrong has already won three titles, he is perfectly in control and he's better prepared than his rivals. I think he we will win more."
The 29-year-old already is set to equal fellow American Greg LeMond's tally of three Tour titles although LeMond didn't win them consecutively.
According to Augendre, Armstrong has a chance of breaking the record of five titles held by Miguel Indurain, Eddy Merckx, Jacques Anquetil and Bernard Hinault. Only Indurain won five in a row.
"I wouldn't be surprised if he broke the record," said Augendre, who began covering the Tour in 1949. "He dominates so completely. He is one of the greats. He's an all-rounder."
Although he's nearly halfway there, Armstrong isn't yet contemplating a record six victories.
"To tie a record or to break a record has never been my motivation," he said. "I don't look at myself as an Indurain, or a Merckx or an Anquetil or a Hinault. I look at myself as a lesser rider.
"My career is going to be played out year by year," he added. "Will I be here in 2004? I don't know. The record won't keep me here. Happiness will."
Copyright 2018 The Associated Press. All rights reserved. This material may not be published, broadcast, rewritten or redistributed. We strive to uphold our values for every story published.