Napa, Calif. — Just a few days ago, a visitor to Tim Brown's training camp locker was surprised to find the longtime Raiders receiver sharing a joke with newcomer Jerry Rice.
"Me and Jerry were sitting there laughing," Brown said, "and they were like, 'You guys aren't supposed to be doing that, you're supposed to be at each other's throats."'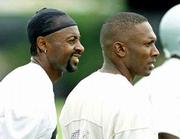 Put two stars on one team and "clash-of-egos" rumors are bound to run rampant: another Kobe Bryant and Shaquille O'Neal or something similar.
So when Rice, the NFL's most prolific receiver, was let go by the salary cap-strapped San Francisco 49ers in June and signed with the team across the bay, everyone wanted to know how he would mesh with Brown, Oakland's Big Man on Campus?
Rice, a 17-year veteran, has an NFL-record 1,281 career receptions and 187 touchdowns. He has 19,247 yards receiving, including at least one catch in his last 225 games, another record.
Last season he had 75 catches for 805 yards and seven touchdowns, but he was edged out of the 49ers' future in recent years by Terrell Owens.
Brown's credentials are also impressive. Oakland's 14-year veteran holds team records with 846 catches for 12,072 yards and 86 touchdowns.
The Heisman Trophy winner out of Notre Dame had 76 catches for 1,128 yards and 11 TDs last season.
Just how the Raiders will use both remains in question.
Oakland finished 12-4 last season to win the AFC West and made it to the AFC title game before losing to Baltimore. The Raiders were was ranked atop the NFL in rushing, but fell into the middle of the pack when it came to the pass.
The team nonetheless found a rhythm with Brown, speedy James Jett, who could spread out the field, and Andre Rison, who came to the team late in training camp and quickly found a niche.
Rison appears to be a casualty of the deal with Rice; the Raiders have not re-signed Rison for this season.
Rice and Brown were doing their best to dispel any rumors about their relationship at the Raiders' training camp, which opened over the weekend in Northern California wine country.
"Things are going to be said all year. If one of us has a big game and the other one has a bad game, I'm sure they're going to be saying whoever had a bad game is mad," he said. "But as long as we know and the team knows what's going on between us, that's all that matters."
Patriots
Robert Edwards still isn't ready to play.
The New England running back, who severely injured his knee in a beach football game at the 1999 Pro Bowl, flunked the Patriots' conditioning test Monday, falling a second short at the end of 20 straight 60-yard dashes.
Edwards said he failed because he was nervous, and he wants to try again. But he was placed on the team's physically unable to perform list, keeping him out at the start of training camp.
Dolphins
Miami re-signed All-Pro defensive end Jason Taylor to a six-year, $42 million contract, ensuring their defense will remain solid for years to come.
They also signed four rookies, including quarterback Josh Heupel, their sixth-round pick; and No. 2 choice Chris Chambers, a wide receiver from Wisconsin.
Heupel led Oklahoma to the national championship last season and was runnerup in the Heisman Trophy voting. Running back Travis Minor, whose Florida State Seminoles lost to Heupel and the Sooners in the title game, also signed.
Panthers
Carolina released veteran defensive end Chuck Smith, who played in only two games for them last season after signing a five-year, $21.5 million contract. Smith was kept out last season by arthritic knees,
Knee problems were the issue of the day for the Panthers.
Wide receiver Patrick Jeffers, co-holder of the team record for touchdown catches, says he's concerned about persistent swelling in his left knee. Jeffers missed all of last season after injuring the knee in training camp.
Jeffers said Monday that if the swelling doesn't subside, it could severely limit his playing time this year.
Lions
Detroit agreed to terms with three of their selections in the 2001 draft, including first-rounder Jeff Backus. The team announced agreements with offensive tackle Backus, center Dominic Raiola and defensive tackle Shaun Rogers.
Bills
Buffalo released free agent rookie quarterback Tim Hasselbeck, brother of Seattle's starter, Matt Hasselbeck.
The Bills cut punter Pat Pidgeon, who had been competing with Virginia's Jay Taylor to take over for veteran Chris Mohr, a salary cap casualty.
Among five free agents signed by the Bills on Monday was another punter, Brian Moorman, who led NFL Europe in punting the past two seasons.
Copyright 2018 The Associated Press. All rights reserved. This material may not be published, broadcast, rewritten or redistributed. We strive to uphold our values for every story published.