Denver — Mike Hampton broke out of a seven-start slump, pitching a five-hitter to lead Colorado Rockies to an 8-2 victory over San Francisco on Monday night.
Neifi Perez hit a three-run homer and drove in four runs for the Rockies.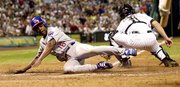 Hampton, 0-5 with an 8.06 ERA in his previous seven starts, had a two-hit shutout through seven innings before pinch-hitter Shawon Dunston broke it up with a two-run homer in the eighth.
Hampton, who hadn't won since June 10, faced the minimum 18 batters through six innings. He allowed a one-out single to Rich Aurilia in the fourth and a one-out walk to Eric Davis in the fifth, but both were erased on double plays.
Hampton (10-7) struck out five and walked two.
Barry Bonds, who with 42 homers has fallen slightly behind Mark McGwire's record 70-homer pace in 1998, went 1-for-3 with a single, a groundout, a double-play grounder and a walk.
Bonds has not homered since hitting two off Hampton last Wednesday at Pacific Bell Park.
Expos 3, Phillies 0
Philadelphia Javier Vaz-quez pitched a seven-hit shutout and struck out 10 for Montreal. Orlando Cabrera, Michael Barrett and Jose Vidro each had RBIs for the Expos. The Phillies drop-ped to 4-8 since the All-Star break.
Vazquez (9-9) walked none in his second complete game of the season and fourth career shutout second this year. Since losing four straight starts, he is 4-0 with a 2.98 ERA.
Cubs 6, Astros 2
Houston Corey Patterson and Miguel Cairo homered to give Chicago a split of the four-game series. Chicago left Houston with a three-game lead in the NL Central, the same margin the Cubs brought with them to Texas last Friday.
Kerry Wood (9-6) won for the first time in four starts since July 3, allowing two runs and 10 hits in 523 innings and striking out five.
Roy Oswalt (8-2), who had been 6-0 in eight previous starts this year, gave four runs and six hits in six innings. Houston had been unbeaten in his previous starts.
Reds 5, Braves 4
Atlanta Pinch-hitter Todd Walker drove in the go-ahead run with a two-run single in a five-run eighth inning as Cincinnati rallied past Atlanta.
Tom Glavine, trying to win his fourth consecutive decision, took a six-hit shutout and a 3-0 lead into the eighth. But reliever Mike Remlinger (3-2) gave up a run-scoring triple to Ken Griffey Jr. and an RBI single to Sean Casey.
Walker, acquired from Colorado last week, singled with the bases loaded off Jose Cabrera for a 4-3 lead, and pinch-hitter D.T. Comer followed with a sacrifice fly. Danny Graves allowed a run in the ninth but finished for his 17th save.
Mets-Marlins, ppd
Miami Monday night's game between the New York Mets and the Florida Marlins was postponed because of rain. It was scheduled for Sept. 6.
Dodgers 3, Brewers 1
Milwaukee Chan Ho Park pitched into the seventh inning, and Adrian Beltre and Shawn Green homered as Los Angeles handed Milwaukee its 10th straight loss. Milwaukee's losing streak is the longest in the majors this season, topping Kansas City's nine-game skid from July 2-13.
Park (10-6) improved to 6-0 with a 2.21 ERA in his career against Milwaukee, including a two-hit shutout last Wednesday in Los Angeles.
Padres 4, D-backs 2
Phoenix Phil Nevin went 3-for-4 with a homer and two RBIs as San Diego matched a season high with its fifth straight victory.
Nevin hit an RBI double in a three-run first inning and added his 27th homer in the eighth. Woody Williams (7-8) allowed one run and six hits in five innings to win for the first time in three starts.
Copyright 2018 The Associated Press. All rights reserved. This material may not be published, broadcast, rewritten or redistributed. We strive to uphold our values for every story published.