QUINTER — There's been a change in a familiar western Kansas landmark. Few noticed it at first, after the tallest portion of Castle Rock toppled to the ground earlier this month.
"I didn't expect that to fall in my lifetime," said Don Harvey, whose farm is located about 5 1/2 miles from the rock formation south of Quinter. "It's been there for thousands of years."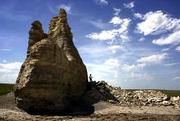 No one is exactly sure when the rock fell or why, but it appears to have happened the night of July 12, when heavy rains and strong winds hit Gove County.
"We've had some pretty good winds," said Tom Stewart, the Castle Rock Ranch owner on whose land the formation is located. "And it may have just gotten tired and decided to fall."
Harvey said that 5 inches of rain fell in a week at his nearby farm.
Stewart didn't find out about the collapse until last Thursday, a week after it's believed to have happened.
It's difficult to say how much of the rock fell, but it included the tallest of what had been two distinct spires. Castle Rock now has three distinct spires, although one appears to show strong evidence of erosion and cracking.
Quinter resident Ben Litfin might have been among the first to make the discovery, the night after the storm. He had relatives in town and he wanted to show them the sights, including Castle Rock.
As they approached the overlook south of the spire, Litfin said he could tell that another piece had fallen from the rock. He's a frequent visitor to the site, which he likes to show to relatives and friends. He also look for shark's teeth, remnants of the prehistoric era when water covered the region.
Litfin was disappointed by his discovery, just as he had been when he learned that the Cobra, another tower of rock located south of Castle Rock, had fallen before his return to Quinter nearly a year ago.
The Cobra's passing nearly two years ago also went without notice, again the victim of heavy rains and high winds.
In the 1980s a similar rock dubbed the Sphinx because of its similarities to the sphinx in Egypt fell. It was located near Monument Rocks in western Gove County.
The three rock formations are landmarks, carved out over thousands if not millions of years by wind and water erosion.
Castle Rock was exceptionally notable because it was a single rock tower, located hundreds of yards north of a series of rock badlands.
Quinter has heralded the location of Castle Rock for years, erecting signs noting that it is the gateway to Castle Rock.
The main part of debris from the collapse measured 10 to 15 feet deep, stretching out to the north almost 20 yards. Additional debris, much of it from the caprock that rested at the top, stretched out another 20 yards.
Copyright 2018 The Associated Press. All rights reserved. This material may not be published, broadcast, rewritten or redistributed. We strive to uphold our values for every story published.