Washington — Katharine Graham would have loved it, her daughter said: America's elite assembled to remember the grace, grit and humor she used to transform The Washington Post into a great newspaper.
"What a way to go!" declared Ben Bradlee, her longtime executive editor, in a eulogy Monday that recalled Mrs. Graham's hearty guffaw, her thirst for a good story and her "love for a piece of the action."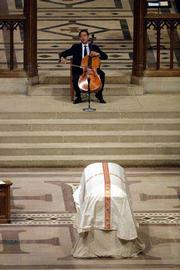 Mrs. Graham, who served as chairman of the Washington Post Co. for two decades, died last Tuesday at age 84 from injuries in a fall in Sun Valley, Idaho.
Her funeral at Washington National Cathedral drew a crowd of more than 3,000 including leaders from business, government and journalism. Vice President Dick Cheney, former President Clinton, Microsoft Chairman Bill Gates and cellist Yo Yo Ma were among hundreds of notables who paid their respects.
Yet for all the high-powered names, many of the recollections of Mrs. Graham were of small kindnesses and of friendships remembered from years marked by personal tragedy, political battles and journalistic showdowns.
Former Secretary of State Henry Kissinger recalled Mrs. Graham's concern about the strain he faced during the national divisions over the Vietnam War.
"You need some rest," she told him. "Let's go to the movies." They did, Kissinger recalled, adding, "The movie audience was surely startled when the lights went up and they saw us sitting together."
Historian Arthur M. Schlesinger Jr. spoke of Mrs. Graham's growth from shy wife and mother into strong newspaper executive after the death of her husband, Philip, who had been publisher of the Post before committing suicide in 1963.
"She developed skills she did not know she had and firmly and gracefully established her authority," Schlesinger said. "In vindicating herself, she became a quiet revolutionary on behalf of all women."
Mrs. Graham's daughter, journalist Elizabeth "Lally" Weymouth, spoke of her mother's "incredible transformation" from the early years of self-doubt, recalling how her mother would practice saying "Merry Christmas" with her children before heading for the Post's Christmas party.
"Ultimately, she found her voice," Weymouth said, adding, "She would have loved this funeral."
Mrs. Graham's son and successor, Donald Graham, recalled his mother as "a believer in the oldest journalistic virtues."
"She loved scoops," he said. "Her only question was, 'Are you sure you are right?' She loved a good story and burst with pride with the people who wrote them."
The service was led by former Sen. John Danforth, an Episcopal priest. Honorary pallbearers included former Defense Secretary Robert McNamara, lawyer Vernon Jordan and broadcast executive Barry Diller.
Ushers included TV journalist Barbara Walters, Gates, investor Warren Buffett and director Mike Nichols. Among the media representatives in the audience were Associated Press chief executive Louis D. Boccardi and Donald Newhouse, chairman of the AP board.
Copyright 2018 The Associated Press. All rights reserved. This material may not be published, broadcast, rewritten or redistributed. We strive to uphold our values for every story published.