Even a sluggish U.S. economy can't slow Lawrence's construction industry.
Overall building activity surged in Lawrence during the first six months of the year, driven by a healthy dose of public, commercial and residential projects, according to a new report from City Hall.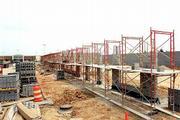 Builders took out permits for $84.1 million in construction projects and related work during the first half of the year, the report said. That was up 35 percent from the $62.4 million during the same period in 2000, a year that ended as the city's most lucrative on record.
"There's a lot of activity in Lawrence," said Randy VanSickle, project manager for Vanum Construction Inc. in Kansas City, Kan., which is building a $1.5 million strip center at Pine Ridge Plaza, northeast of 33rd and Iowa streets. "Just driving around, I see $84 million in permits out there. I wish I had a larger percentage of it."
Among the foundations for this year's totals:
Public projects. The city issued permits for two of its own major projects this year: $5.4 million for upgrades to improve filtration and boost pumping capacity by 50 percent at the city's Clinton Water Treatment Plant, 2101 Wakarusa Drive; and $1.5 million for construction of a new station for Lawrence-Douglas County Fire & Medical at 2128 Harper St.
Commercial projects. Inspectors wrote 31 business permits during the first half of this year, more than doubling the 15 issued during the same period a year earlier. Among them was Vanum's $900,000 project to build a new Old Navy store at 3234 Iowa.
Residential work. While the number of permits for construction of single-family homes is off slightly this year 183 through June, down from 191 a year earlier duplex work is speeding ahead at a record pace.
Builders this year already have taken out permits for 100 duplex projects, or enough for 200 living units. By this time last year only 11 such permits were issued, or enough for 22 living units.
"There are whole subdivisions that are nothing but duplexes," said Victor Torres, the city's director of neighborhood resources, who oversees the building inspections division.
The duplex pace easily is the fastest in city history. The most ever issued for a year was 122 (244 units) in 1996.
And single-family construction is catching up with last year's pace. Builders took out permits last month for 31 new homes, up from 25 in June 2000.
Overall, the construction industry already is exceeding inspectors' expectations, Torres said.
"It's a good indicator," he said. "It's an excellent indicator, especially if you're a general contractor or a sub (contractor). Obviously there's a lot going on in the community houses are being sold, duplexes are being built and sold.
"It's an excellent time to be in the construction industry."
Copyright 2018 The Lawrence Journal-World. All rights reserved. This material may not be published, broadcast, rewritten or redistributed. We strive to uphold our values for every story published.