Minneapolis — When Lou Piniella looks at the Minnesota Twins, he sees a lot of the Seattle Mariners.
"Both teams have about the same ingredients: athleticism, defense and good pitching," the Mariners manager said after Seattle won 3-2 Monday to complete a four-game sweep. "They were all very competitive games, and we were fortunate to come out on top."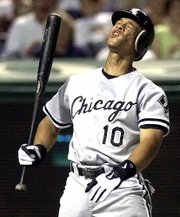 Seattle never trailed during the series, outscoring the Twins 19-8 in the matchup of division leaders. But Piniella noted that in the four games, the teams combined for just three home runs.
"That shows the type of teams that Seattle and Minnesota have, and how much they resemble each other," he said. "There are a lot of the same components."
Minnesota dropped into second place in the AL Central, two percentage points behind Cleveland. The Twins led by five games at the All-Star break but have lost nine of 12 since.
The Twins, who dropped out of first for the first time since June 28, also were swept in a four-game series by Boston from July 3-6 last year.
"It just wasn't meant to be," Twins manager Tom Kelly said. "They outplayed us for four days. They outpitched us and did everything just a little bit better than we did."
Jamie Moyer (10-5) allowed both runs and seven hits in 623 innings with seven strikeouts. Kazuhiro Sasaki got four straight outs for his major league-leading 33rd save in 37 chances, completing the Mariners' 5-1 road trip.
Brad Radke (10-7) lost his third consecutive start, giving all three runs one was unearned and nine hits in eight innings and struck out seven.
"There's a lot of baseball left, so we can't hang our heads," Radke said. "The next two months are crucial, not just the next road trip. Every game is important."
Seattle has the best record in the major leagues at 72-27.
Yankees 7, Blue Jays 2
New York Roger Clemens (14-1) struck out eight to move past Tom Seaver into fourth place on the career strikeout list, winning his 10th straight decision.
Clemens, three ahead of Seaver at 3,643, tied Arizona's Curt Schilling for most wins in the majors, allowing two runs and seven hits in 623 innings. His 274th victory put him ahead of former Yankees Hall of Famer Red Ruffing for 27th place.
Tino Martinez, Paul O'Neill, Jorge Posada and Shane Spencer all homered for New York, which opened a 112-game lead over second-place Boston in the AL East.
Indians 2, White Sox 0
Cleveland Rookie C.C. Sabathia took a shutout into the seventh inning and Juan Gonzalez homered to lift Cleveland into first place in the AL Central.
Sabathia (10-3) allowed two hits as the Indians won for the sixth time in seven games and moved two percentage points ahead of Minnesota, taking over the division lead for the first time since June 26. The Indians trailed by five games as recently as July 16.
Gonzalez hit his 26th homer in the second inning off Mark Buehrle (7-6) and added an RBI single in the eighth off Gary Glover.
Angels 9, Orioles 4
Baltimore Troy Glaus had three RBIs and Anaheim scored all its runs with two outs in winning for the seventh time in eight games. Baltimore has lost seven of eight and 14 of 17. Ismael Valdes (7-5) allowed two runs and eight hits in 523 innings.
Copyright 2018 The Associated Press. All rights reserved. This material may not be published, broadcast, rewritten or redistributed. We strive to uphold our values for every story published.