Sliding into a swimming pool can be very therapeutic for children with disabilities. More than 30 children are taking part in a summer camp at the Lawrence Outdoor Aquatic Center, 727 Ky., that allows them to do just that.
Annette Deghand, special populations supervisor with the Lawrence Parks and Recreation Department, leads the Unified Day Camp, which includes children of all abilities.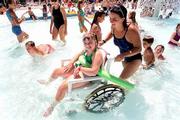 She says swimming is one of the campers' favorite activities.
"We do it three days a week for eight weeks and they never get tired of it," Deghand said. "Swimming is a great activity for kids with disabilities. It's just a nice feeling to get out of the (wheel)chair and participate in an activity just like any child."
Campers use different types of pool equipment, such as floating "fun noodles" and aquatic belts.
"You can wrap the fun noodles under their arms and legs," she said. "It's a great teaching tool. It forces the individual to use their limbs."
Aquatic belts, worn around the waist, are also therapeutic.
"While it still assists you in keeping afloat, it keeps the arms and legs free," she said.
The aquatic center's zero-depth entry is also beneficial for children and adults with disabilities.
"There is no portable ramp, no pulling it in or out," Deghand said. "That's really nice."
In the water, people with disabilities have a wider range of motion and are able to move without a wheelchair or orthopedic device.
"When a child with a disability is in the water, there's no barrier for them. They're very independent," Deghand said. "They get a sense of independence that other kids have."
Copyright 2018 The Lawrence Journal-World. All rights reserved. This material may not be published, broadcast, rewritten or redistributed. We strive to uphold our values for every story published.