Washington — The odds are dead even that the world's average temperature will increase at least 5 degrees by the end of the century, enough to trigger flooding, famine and drought across much of the globe, according to a new study in today's edition of the journal Science.
It's the first time scientists have computed the likelihood that Earth would get warmer by specific degrees. The study addresses a key criticism about the issue of global warming, that of scientific uncertainty, which the Bush administration has cited for its go-slow approach to the issue.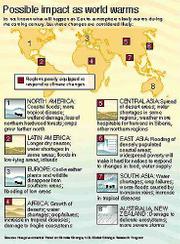 The study was done by Tom Wigley, a senior scientist at the U.S. National Center for Atmospheric Research in Boulder, Colo., and Sarah Raper of the University of East Anglia in England. Their findings were published as world leaders meet in Germany to work on a controversial 1997 Kyoto treaty to fight global warming.
The study concluded that there is a 90 percent chance global warming will increase Earth's temperature from 3 to 9 degrees by 2100. Wigley and Raper consider a 5-degree increase most likely.
There is a 50-50 chance that the world will get at least one degree warmer by 2030.
Scientists are beginning to use these probability studies, which mathematically set the odds for an event, to try to understand what global warming might mean in the decades ahead.
A probability study "gives you a better feel for how much you have to worry and how much risk there is in not doing anything," said Peter Stone, a climate scientist at the Massachusetts Institute of Technology, who this week released a similar probability study.
The 5-degree increase by 2100 crosses a key threshold for climate scientists. That would make it hot enough to cause more tropical diseases, droughts, floods, heat waves and severe weather in general potentially killing or displacing hundreds of millions of people, according to a February report by a United Nations-sponsored committee.
Effects for the United States would be milder than for countries that already have tropical or semi-tropical climates.
Copyright 2018 The Lawrence Journal-World. All rights reserved. This material may not be published, broadcast, rewritten or redistributed. We strive to uphold our values for every story published.