At O'Dowd's Little Dublin in Kansas City, it's probably the promise of a warm, dark pint of Guinness in a cool, dark place that draws people in, and not because somebody said, "Hey, Let's go out for Irish food!"
Although O'Dowd's touts an extensive and authentic list of Ireland's culinary delights, this restaurant's primary purpose is inscripted into the subtitle "Irish Ale House and Pub" and the priorities are set at bar stool height. Indeed, the waitress looked aghast when one of our party asked, "Do you know how to make a coffee drink that doesn't have liquor?"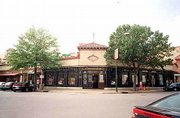 The menu is varied and often intriguing I believe "award-winning" is also emblazoned on the promotional materials and it obviously reflects a deep interest in Irish food. But I'm not sure how well this cuisine survives the trip "across the pond" and the ensuing culture shock of Midwestern America. Ireland has never exactly been renowned for its cooking, and much of the time I felt the tastes lacked clarity, that the textures were unappealing, and that really I only wanted to eat potatoes and skip the rest of it.
Pub crawl
Literally an authentic Irish pub, O'Dowd's was dismantled in Ireland and reconstructed, piece by piece, in its current location. Guinness beer barrels hang from the ceiling and bric-a-brac lines shelves. Tables and chairs, presumably worn and scarred by the fingers and forks of countless patrons, plug the uneven, random crannies of a large space that still manages to feel cozily cramped.
There's something appealing about an Irish pub even ones not in Ireland and O'Dowd's benefits from this karmic reputation. The spunk o' the Irish cheerfully battles lackadaisical service, too-loud fiddle music on the speaker system and hit-or-miss food. But pubs gain character from their customers, and the organic camaraderie of a regular clientele has trouble sprouting from a place with a prime corner location in a tourist district.
Basic "peasant" meals are the bedrock of traditional Irish cooking, and O'Dowd's has plenty of classics. There's Irish stew, of course, and fish and chips, corned beef and cabbage, lamb sandwiches, shepherd's pie and several kinds of "boxty" a stuffed Irish potato pancake.
Potatoes star in various incarnations: boiled, baked, twice-baked, stuffed, mashed and fried. The potato enjoys a revered role in Irish food, and not surprisingly, the spuds are one of the best things going at O'Dowd's. My Colcannon potatoes were coarsely mashed and yummy; the appetizer of Galway potato skins was tastily fried and generously topped with cheese, bacon and onions. The disappointment in this appetizer came in the dipping sauce, a blah bleu cheese.
A fish and chips entrwas excellent on one visit and pretty good on another. It was beer-battered and crispy fried but tender on the inside, with just the right amount of salt to be tasty while still leaving open the possibility for a little splash of vinegar.
Visual appeal is not among the strengths of the Irish Stew, but then stew is one of the best examples of traditional cooking, necessarily emphasizing efficiency and ease first, taste second and aesthetic appeal last if at all. I found O'Dowd's version, which employs interesting and appealing seasoning, better than palatable, though I suspect it would get tiresome quickly. That said, it's likely better than that of many Irish housewives.
I looked forward to the corned beef boxty, but while the meat quality was all right, the dish lacked a crispness of flavor, and the texture was doughy. It didn't taste bad, but long before I finished it had become less than appealing.
The same problem plagued the North Country Sausage Rolls. Ricotta cheese was mixed with country style sausage, rolled in phyllo pastry leaves, then baked and served with gravy. Authentic? Perhaps, but the sausage was greasy, the pastry soggy and the gravy lukewarm and gelatinous.
Torte reform
The Irish Whiskey (chocolate) torte sounded wonderful, as did the bread and butter pudding, made with Irish Whiskey, berries and whipped cream. But despite a smorgasbord of good individual flavors, they became muddied in the mixing, resulting in pudding that was dense but not delicious, and a torte that buried its flavors rather than brought them to the surface.
Some selections seemed suspiciously imported eggplant parmesan sandwich? spinach salad with avocado? pasta primavera alfredo? speaking perhaps to O'Dowd's trendy location, where even the most culturally identifiable place bends to the gravitational suck of yuppie American society.
Still, O'Dowd's trades heavily on the stock of the "smilin' Irish," and granted, most will come for that, not because they have some hankering for a Beamish broil. Those customers will probably leave full and satisfied. I did but I didn't leave fully satisfied.
Copyright 2018 The Lawrence Journal-World. All rights reserved. This material may not be published, broadcast, rewritten or redistributed. We strive to uphold our values for every story published.