For the twenty-first year, Topeka Harley-Davidson will sponsor an annual Muscular Dystrophy Association fundraising ride. This year's ride, the Mike Sweet Memorial Ride, is named for longtime MDA ride supporter, and will mark several firsts in the ride's history.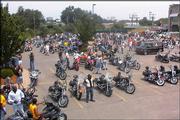 For the first time the ride will take place in the evening rather than during the middle of the afternoon, and for the first time the ride will take place on Saturday, July 21st, and not on a Sunday. Both changes are geared toward making the ride more convenient for even more riders than the estimated 1200 riders on 1000 bikes that participated last year.
Also for the first time the 60-mile ride will travel a route heading east and south, and include Douglas County. The ride will head east from Topeka Harley-Davidson, travel north toward U.S. Highway 40, east toward Sixth and Wakarusa. The ride will make a rest stop at the Kwik Shop there before heading south on Douglas County road 442, then back into Topeka, concluding at Heartland Park.
The daylong event begins at 10:00 AM with registration. There will be rider skill games, barbecue available from Henry's Grill, and the band Shake will perform from 1:00 till 3:00 PM. Registration will take place under a large, shading tent, and bottled water and soft drinks will be sold. The dealership, and the downstairs Harley-Davidson museum "Yesterdays" will be open to the public. The ride itself, fully escorted by area law-enforcement, will depart at 4:00 PM at which time the dealership will close an hour earlier than usual.
What: Mike Sweet Memorial MDA RideWhen: Ride leaves at 4 p.m. Saturday, July 21stWhere: Topeka Harley-Davidson, 2047 SW Topeka Blvd., Topeka, KSRegistration information: (785) 234-6174
Plans are for Karl Eberle, manager of Harley-Davidson's Kansas City assembly plant to lead this year's ride. In the event of rain, the ride will be rescheduled. As always, the ride is open to and welcomes riders of all makes and models of motorcycles.
Raising money through registration fees and donation pledges raised by riders, last year's event raised over $42,000 for MDA. This year, as in past years, a check will be presented to the MDA during the annual Jerry Lewis Labor Day telethon. For the second year, the telethon's local broadcast will also take place at Topeka Harley-Davidson.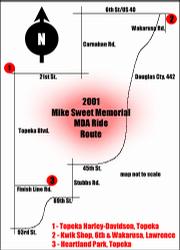 The $25 registration fee per rider includes an armband good for admission to Heartland Park where the ride concludes. There, a custom bike show, live music and exhibition races by riders from HDRA, the Harley-Davidson Racing Association will take place. Also at Heartland Park, door prizes will be given out and a Harley-Davidson 883 Sportster will be raffled off. Entries in the raffle are received for each incremental pledge of $250 to MDA.
Though registration will be available the day of the ride, pre-registration is encouraged. Riders may register and pick up pledge forms at Topeka Harley-Davidson at 2047 SW Topeka Blvd. in Topeka. Business hours are Tuesday through Friday from 9:00 AM until 7:00 PM and Saturdays from 9:00 AM until 5:00 PM. For more information Topeka Harley-Davidson can be reached at (785) 234-6174, and found on the Web at http://www.topekaharleydavidson.com.
Copyright 2018 The Lawrence Journal-World. All rights reserved. This material may not be published, broadcast, rewritten or redistributed. We strive to uphold our values for every story published.