Orlando, Fla. — Kelli Kinch and her teen-age daughter, Lori, zipped through the line at It's a Small World, found no wait at Splash Mountain and breezed through The Haunted Mansion on a recent visit to Walt Disney World.
"I guess I expected it to be more crowded," said Kinch, of Erie, Pa.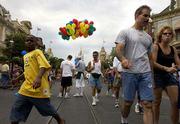 Disney's Magic Kingdom was far from a ghost town on a recent, rainy weekday, but visitors say it's been less crowded than usual during the traditionally busy summer season.
The nation's slowing economy is taking its toll on Orlando, America's theme park capital, and on other theme parks around the nation that attract visitors from long distances.
Regional parks are faring better, and overall U.S. theme park attendance is expected to increase 5 percent over last year's 317 million visits, according to the International Association of Amusement Parks and Attractions.
But in the middle of the summer, when theme and amusement park visits are traditionally at their highest, many parks are seeing a drop in attendance not seen in years. While most of the major U.S. theme parks don't release attendance figures, other numbers tell the story.
Theme: disappointment
In Orlando, home to seven of the most popular theme parks in the world, hotel occupancy rates were down this spring, and passenger traffic at Orlando International Airport dipped more than 15 percent in April, the most recent month for which figures are available.
During the third quarter, attendance at Walt Disney World's four theme parks in Orlando slipped 7 percent to 8 percent, with a 5 percent to 6 percent decrease at Disneyland in Anaheim, Calif, according to Merrill Lynch analysts Jessica Reif Cohen and Andrew Slabin. Hotel occupancy rates at both resorts were down almost 3 percent.
Disney's recently opened California Adventure in Anaheim, Calif., was struggling to attract 9,000 to 12,000 guests a day, even though it can accommodate 33,000 people at a time, according to some estimates.
To boost attendance for the summer, officials have lowered California Adventure's entrance fee by $10 for adults and will allow one child in free with each paid adult admission. They've also brought back the Electrical Parade, a fixture at Disneyland until it moved to Florida in 1996. They plan to open a "Who Wants to be a Millionaire" attraction in September and have added smaller character shows.
Operating income for Disney's theme park division, long a consistent money-winner for the company, is expected to decline 3 percent this year to $549 million, Cohen and Slabin wrote.
Closer to home
Regional parks are faring better because most visitors can skip travel and hotel expenses.
"They're somewhat recession-resilient," said Terrie Ward, a spokeswoman for the International Association of Amusement Parks and Attractions in Alexandria, Va.
But even Ohio-based Cedar Fair, which owns six regional amusement parks nationwide, including Worlds of Fun in Kansas City, Mo., Cedar Point in Ohio and Knott's Berry Farm near Los Angeles, has seen a 4 percent downturn in attendance, excluding results from two newly acquired parks.
At Six Flags Inc.'s 30 domestic parks, attendance has been steady due to a base of season ticket holders and promotions, such as small children getting in for free, vice president Debbie Nauser said.
St. Louis-based Busch Entertainment Corp.'s nine parks, which include the Sea World and Busch Gardens brands, are on track to have a record year for attendance said Vic Abbey, the company's chairman and president.
In Orlando, however, the climate for theme parks isn't expected to improve for some time.
Copyright 2018 The Associated Press. All rights reserved. This material may not be published, broadcast, rewritten or redistributed. We strive to uphold our values for every story published.