Longton — It's hot here. Has been all day.
Kansas Avenue is quiet. A couple of cars are angled against the curb in front of the Arrowhead Cafthe only unlocked front door on main street.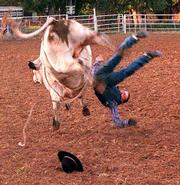 Three or four youngsters are scattered along the six blocks that make up the business district.
As the sun drops toward the trees, a steady trickle of pickup trucks pulling horse trailers eases down Kansas Avenue. They're headed for the Elk County Fairgrounds on the south edge of town.
It's rodeo night in this south-central Kansas town, population 375.
Rancher Carroll Tredway, an 84-year-old Longton Fair Board volunteer, is sitting at the entrance to the rodeo grounds. For $5 he'll uncap his Magic Marker and draw a line on the back of your hand that'll prove you paid to watch the action.
"I heard it was 108 today," Tredway said. "Had a cowboy come through here while ago, said it was so hot it melted the chrome off'n his trailer hitch," he said, laughing and waving his pen in the air.
The 8 p.m. starting time is two hours away but the rodeo arena is already half-full of horses mounted by cowboy-attired riders of both sexes, most ages and all sizes. Other rodeoers are on the fairgrounds riding, walking or grooming their horses. Some come to compete, others to mingle.
It's a social event on horseback.
Tonight's event is run by the Hebb Rodeo Company out of nearby Howard, 20 miles to the northwest. It's a family affair.
"My brother Max hauls the rodeo stock and flanks the buckin' stock. My wife, Rita, handles all of the paperwork and keeps things moving, and we've got sons, grandchildren, nieces, sisters, nephews and friends all over the place who are helping us, and some of them rodeo, too," Gary Hebb said.
The Hebbs will put on 17 rodeos between the last of May and the first of October. All of them are in Kansas towns such as Howard, Haysville, Augusta, Arkansas City, Sedan, and Iola.
The 54th Elk County Free Fair will be Aug. 3-4 in Longton. Open judging of the food and animal exhibits begins at 10 a.m. Friday followed by turtle races at 2 p.m., along with other races for children.Other Friday activities:6 p.m.: Free pit-cooked, all-you-can-eat, barbecued beef with trimmings and music by the Longton Ozark Jamboree6:45: Youth talent show8 p.m.: Hebb RodeoSaturday activities:10:30 a.m.: Parade on Kansas Avenue9 a.m.-10 a.m. and 2 p.m.-3 p.m.: Fair exhibitsnoon: Smoke-Off and Horse Shodeo1 p.m.: Lawnmower tractor pull followed by truck and tractor pull2 p.m.: Children's races8 p.m.: Hebb Rodeo9 p.m.-1 a.m.: Fair danceIf you have rodeo questions, please call (620) 374-2772. For fair questions, please call (620) 642-3271.
Entire families sign up to follow the Hebb's rodeo circuit.
Bull and bronc riding, barrel racing, calf roping and breakaway calf roping have competition classes that allow youngsters and adults alike to participate. There is a calf scramble for the very young who get prizes for chasing calves and pulling ribbons off their tails.
"Our bulls will give you a good ride," Gary Hebb said, "but they're not mean. If we get a bad bull who tries to hurt people, we'll send him to the Alpo plant or he'll be between a bun at Wendy's or Hardees."
In the team roping event, the two-cowboy teams are sometimes fathers and sons, brothers, fathers and daughters or dating couples. Or, they can be a team of working cowboys like Gene Matile of Elmdale and Brad Starks of Beaumont, who pull their horses to the rodeo in trailers after a day on horseback tending livestock in the Flint Hills.
The Hebb's rodeo has been in business for eight years.
"If we were running this as a moneymaker, we'd have been out of business a long time ago," Rita Hebb said. "It's a lot of work but we really enjoy it, and like Gary says, when it stops being fun, we're out of here."
Late last week Rita had something more important on her mind than rodeoing.
She was baking a cake for this weekend's Howard Elk County Fair.
"Last year, I made a little 10-inch round, chocolate cake with roses tipped in vanilla and chocolate and called it the Prairie Rose Cake," she said proudly. "Well, wouldn't you know I got $10 for first place and $50 for champion, and it sold in the fair benefit auction for $200."
"Tonight I'm making a 13-by-9 white cake, so we'll see if I can get lucky again."
Copyright 2018 The Lawrence Journal-World. All rights reserved. This material may not be published, broadcast, rewritten or redistributed. We strive to uphold our values for every story published.