Pittsburgh — The Kansas City Royals found a way to end their longest losing streak of the season they pretended they were another team.
Carlos Beltran homered and drove in four runs and the Royals, scoring for the first time since the All-Star break, ended a nine-game losing streak by beating the Pittsburgh Pirates, 7-4, Saturday.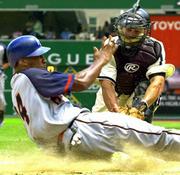 Beltran hit a three-run homer in the third inning the Royals' first extra-base hit in the three-game series and added an RBI single as Kansas City won for only the second time in 11 games in July.
Kris Wilson (3-1) withstood solo homers by Aramis Ramirez and Brian Giles to help the Royals avoid their first 10-game losing streak since they lost 12 in a row in 1997.
Wearing uniforms modeled after the once-successful Negro League Kansas City Monarchs, the Royals also stopped a 20-inning scoreless streak. They had only seven singles while being shut out in the first two games of the series, including a 1-0, one-hit loss to the Pirates' Todd Ritchie on Friday.
"We needed to win that game," manager Tony Muser said. "We lost nine in a row, so that was an emergency game."
He proved that by bringing in closer Roberto Hernandez with runners on second and third, two outs and the Royals up 5-4 in the eighth. Hernandez struck out Giles before finishing in the ninth for his 16th save in 20 opportunities.
"Before we came here, we played some really bad games," Hernandez said. "But, the way the game is played today, how often do you lose two games 2-0 and 1-0 like we did here? We scored some runs, now we can feel better about ourselves."
The Royals also managed one of their infrequent victories against a left-handed starter, getting to rookie Dave Williams (1-2) for four runs and five hits in six innings. Kansas City entered a major league-worst 5-22 against left-handers, 1-11 on the road.
A defensive misplay by rookie center fielder Tike Redman, playing his second game since being recalled from Triple A, helped end a 33-innings scoreless streak by Pirates pitchers in PNC Park.
Williams retired the first two batters in the third before hitting Luis Alicea with a pitch. Redman then dropped Rey Sanchez's liner to mid-range center field, a ball Redman probably should have had but was ruled a single.
Beltran, who wouldn't have batted if Redman had made the catch, followed with a three-run drive to center field for his 13th homer and the Royals' first runs since the ninth inning Sunday against Houston.
"I was trying to pick my team up and go after Beltran, but maybe I tried to be better than the pitch I threw," Williams said. "Good hitters are going to do that when you don't make good pitches."
The homer might have cost the Royals' Joe Randa a little money, too.
"He said he'd put up $100 for the first run," Muser said. "So Beltran wants $300."
Rob Mackowiak tripled and scored on Williams' groundout in the Pirates' third, and Ramirez hit his 17th homer leading off the fifth to get the Pirates within a run. But the Royals made it 4-2 in the sixth on Mark Quinn's leadoff triple another ball Redman misplayed in center and Jermaine Dye's sacrifice fly.
"Those balls are routine, it's just a bad day," Redman said. "I could have had both of them."
Of Redman's misadventures, manager Lloyd McClendon said, "I've seen Hall of Famers have days like that. He's an above-average defensive outfielder, but he was a little nervous. And he's a little disappointed."
Down 5-3, the Pirates loaded the bases against reliever Jason Grimsley in the eighth, but settled for one run on Jason Kendall's sacrifice fly as Hernandez struck out Giles. The Royals added two insurance runs in the ninth.
Notes: Wilson lasted 6 2/3 innings, allowing three runs and four hits. ... Redman also stumbled and nearly fell down while running down Dave McCarty's two-out fly ball in the sixth. ... Until Beltran homered, a Pirates opponent hadn't scored in PNC Park since Milwaukee scored in the fifth inning June 27. The Pirates had won their previous three home games by shutout. ... The Pirates held a pregame ceremony honoring the Negro Leagues, then wore replica uniforms of Homestead Grays. Homestead is located in Pittsburgh's Eastern suburbs. Pittsburgh had two championship Negro League teams, the Grays and the Pittsburgh Crawfords. ... The Pirates finished 8-7 in interleague play, 5-1 at home.
Copyright 2018 The Associated Press. All rights reserved. This material may not be published, broadcast, rewritten or redistributed. We strive to uphold our values for every story published.