RIVERTON — In the time it takes to listen to five swinging versions of "(Get Your Kicks On) Route 66," you can drive the historic highway's entire Kansas route.
Lost in the lyrics of the Bobby Troup classic between "you go through St. Looey, Joplin, Missouri, and Oklahoma City is mighty pretty..." are 13.2 Kansas miles of U.S Highway 66, a short curve in America's fabled, two-lane Main Street.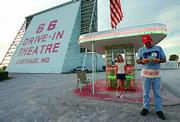 Commissioned in 1926, the 2,448-mile ribbon of concrete and asphalt will have its 75th anniversary Nov. 11. And next weekend, Albuquerque, N.M., will play host to a national festival commemorating 75 years of the classic route.
Also known as "The Mother Road," and "The Will Rogers Highway," the road passes through eight states from Chicago to Los Angeles. But unless you look closely at the roadmap, you might miss the red line that shows Route 66 through Kansas.
Fortunately, it's easier to drive to than to spot on the lower right corner of a Kansas map. To reach U.S. 66 from Lawrence, follow Kansas Highway 10 east to Lenexa and take U.S. 69 south. Alternate Highway 69, south of Pittsburg, takes you into the unincorporated town of Riverton where you'll intersect with Route 66.
A place to start
Riverton is a good pivot point for an exploration of Route 66 in and around Kansas. A turn east at the intersection of Alt. 69 and 66 will put you in front of Eisler Bros. Old Riverton Store.
Built in 1925 as a produce stand, the store continues to serve 66 travelers with deli sandwiches, supplies for the road and an eclectic gift shop full of Route 66 souvenirs and books. If you forgot your camera, you can purchase a disposable one that will imprint "Route 66" on every frame.
Scott Nelson, owner of the Riverton store, is president of the Route 66 Kansas Assn. and dedicated to keeping the spirit of the highway alive. He's pleased with the resurgence of interest in the old road and the constant traffic along the route.
"It seems like there's more going on this year," Nelson says. "Last week was the Harley-Davidson group. Then there was a group of Norwegians. They rent motorcycles in Chicago, and 25 people go to L.A. Then they pick up another group in L.A. and go back to Chicago. They're doing this four times over a six week period."
For their part in honoring Route 66, the association conducts the annual Race Across Kansas, on the Saturday after Thanksgiving.
"It's a half-marathon" foot race, says Nelson, referring to the 13.2 miles of Route 66 between Missouri and Oklahoma.
Swinging along 66
Several years ago the association and the county spent money to have the rainbow-arched bridge west of town cleaned and painted. For many years area teens couldn't resist having their say in spray on the structure, often referred to as Graffiti Bridge. The bridge is now bright white and picturesque. But maybe not picturesque enough.
According to Nelson, the association at one time applied for a grant from the state's Scenic Byways program.
"We were declined for the state of Kansas," Nelson says with a laugh. "Yeah, Route 66 wasn't scenic enough for the state Scenic Byways program."
Next door to the Riverton store, Bill and Cheryl Edwards sit with their 2-year-old granddaughter, Shaya Edwards, and sway gently in their front-yard swing. Thirty feet away is Route 66. Bill waves occasionally as friends motor past. Cheryl, who grew up along the route, recalls pumping gasoline as a teen at her father's gas station on 66. Known as "Lefty" to everyone around here, her father ran the station for 40 years and now operates a wrecker service. If you happen to pass by their home at 7137 Southeast Highway 66 on a summer evening, chances are you'll spot the Edwards and maybe "Lefty" sitting in the swing with their eyes on Main Street USA.
"We've worn out two of them," says Bill of the oft-used swings.
"Lefty considers it his office," Cheryl says.
Galena
To extend the Sunflower state exploration of Route 66, a side trip farther east through the mining town of Galena and into the Show-Me state is worth the time.
Galena has seen better days. Once rich and famous for the area's zinc and lead mines, many of its downtown buildings on old 66 these days are boarded up. But inside the Galena Mining and Historical Museum, visitors can relive the glory days. Museum volunteer Gene Russell says quite a few people stop by the old MKT "Katy" railroad depot to view mining artifacts and 66 memorabilia.
"There's a lot from Europe" Russell says of the visitors. "Maybe more so than from the U.S."
Most of the documentation and Route 66 guides are for travelers going the "right" way, from east to west. So, those traveling from west to east must pay attention as they wind through Joplin to avoid losing sight of the Historic 66 signs marking the way.
The black poet Langston Hughes was born in Joplin Feb. 1, 1902. By 1903, he had moved to Lawrence where he lived until 1915. Part of 66 through Joplin follows Langston Hughes Boulevard. You'll also pass "Connie's Antiques," advertised as the largest antique and flea market in Missouri.
Drive-in theater, of course
Route 66 really shines in Carthage, Mo. In the late 19th century, Carthage had more millionaires per capita than any town in the U.S. because of the zinc and lead mines. The town square, with the classic Jasper County Courthouse, looks like the studio set from the movie "Back to the Future."
Two blocks off the square you can get a room at the Boots Motel, a 1939 motel in stucco with neon and black glass tile. If it's too early to settle down for the night, the place to go is the 66 Drive-In Theatre west of town.
Re-opened in April 1998, the big screen just off the highway is once again bringing in the crowds.
Kenneth Robertson, Joplin, plays with his 7-month-old daughter Emilee Lynn Robertson, while people spread out blankets and lawn chairs around their cars.
"This was a salvage yard," recalls Robertson, who used to walk the field looking for car parts. It's his first time at a drive-in since the one in Web City, Mo., closed in 1997.
"Come to think of it, I haven't been to a walk-in movie since." Robertson says. "I love my drive-ins."
Cowboy Capital
Baxter Springs was known as the Cowboy Capital after the U.S. Civil War. Between 1867 and 1872, a cattle route through town was the shortest distance between Texas ranches and northern markets. The Baxter Springs Heritage Center & Historical Museum provides an in-depth glimpse of the rough and rowdy times of the community, including the story of William Quantrill's attack on Fort Blair and the Battle of Baxter Springs. Less than two months after Quantrill raided Lawrence in 1863, Quantrill and his guerillas attacked a military wagon train and Fort Blair, killing nearly 100 men.
Because you're heading west, you may get the urge to order a cowboy hat or a pair of boots at Bilke's Western Outlet and Bilke's Hatter. Jim Bilke is one of only a couple dozen or so folks across the nation in the hatmaking business. He's also one of a handful who can renovate your favorite Stetson.
Get your kick
In Miami, Okla., travelers can't miss the grand, Spanish colonial-style 1929 Coleman Theater right on 66, the town's main street. And south of Miami is an off-the-beaten-track section of old Route 66 that is only 8 feet wide.
Back at the rainbow-arched bridge in Riverton, a family from Landshut, Germany, pulls up to the bridge in a large motor home. They are traveling the entire route from Chicago to L.A. "It isn't always easy," laughs Christel Engelhard as she and her husband Bernd pull out their German-language guide to Route 66.
"We are seeing the country. Not always ... the big tourist attractions" says their 18-year-old son Lars. "You see America the way it is."
The trio snaps a family photograph and gets back into its home away from home.
"Get your kick off 66," says Christel as they pull out onto America's Main Street.
Copyright 2018 The Lawrence Journal-World. All rights reserved. This material may not be published, broadcast, rewritten or redistributed. We strive to uphold our values for every story published.