Northampton, Mass. — With two years of classes at Smith College still ahead of her, Rosy Fynn already is thinking about retirement.
Smith believes other young women should be thinking about it, too.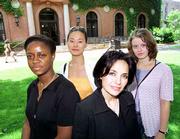 For the first time in its 130-year history, the elite women's college will offer courses this fall on a topic administrators say is particularly important for women: the basics of money management. Such a program is considered a rarity at liberal arts colleges.
"I have an aunt who is almost 50 and she hasn't started thinking about her retirement," said Fynn, 21, a computer science and math major from Ghana who is helping professors organize the program. "I don't want to be in that situation, and I think other young women need to be concerned about their retirement."
The noncredit evening and weekend courses will cover entrepreneurship, investing and tax planning, loan and credit card debt management and retirement planning.
"This is a program that anyone can benefit from, but women seem to be moving more slowly than men who are investing," said Mahnaz Mahdavi, an economics professor leading the program. "It's not that they can't do it, but there's a psychology in society that seems to get in their way."
Women tend to live longer than men but are less likely to have investment plans, Mahdavi said. Women also are more likely to move into and out of the work force to raise families, making it tricky for them to develop steady savings habits.
The $2.5 million being used to start the program comes from Goldman, Sachs & Co. and Ann Kaplan, a Smith alumna and trustee who was the first woman partner at the investment bank.
Recognizing that young women are not the only ones with bad investment habits, Smith is opening its program to students at the area's four other colleges: the University of Massachusetts, Mount Holyoke, Amherst and Hampshire.
It is a program that graduates say they could have used.
Copyright 2018 The Associated Press. All rights reserved. This material may not be published, broadcast, rewritten or redistributed. We strive to uphold our values for every story published.