KANSAS CITY, KAN. — Shiny black bats Barry Bonds wields in his quest for the single-season home run record emerge from a dusty, century-old building on Argentine Boulevard.
In wood bat parlance, the whoop stick Mighty KC Bat Co. Inc. turns out for the San Francisco Giants slugger carries the code name MKC325B.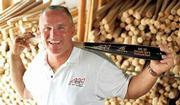 It's precision cut by a computer-directed lathe from a 4-foot billet of maple harvested from the woods of northeast Pennsylvania.
Hand sanding and a two-tone lacquer finish transform it into the future Hall of Fame outfielder's 34-inch, 32.7-ounce instrument of torture.
Bonds entered last week's All-Star break with 533 career homers, and many of his first half's 39 bombs were executed with a Mighty KC bat. If he keeps that pace and ropes at least 32 dings in the season's second half, he'll top Mark McGwire's record of 70.
The bat that carries him across that threshold would end up a permanent fixture in the National Baseball Hall of Fame and Museum in Cooperstown, N.Y.
"We're rooting for him," said Mike Holmes, Mighty KC's president.
Putting wood to an idea
In addition to Bonds, Mighty KC has crafted ash or maple bats for major leaguers Mo Vaughn, Mark Grace, Sean Casey, Derek Jeter, Tony Gwynn, Fred McGriff, Bret Boone and Lee Stevens, who grew up in Lawrence.
The company also delivered bats to Kansas City Royals stars Jermaine Dye, Carlos Beltran and Mike Sweeney.
At the Mighty KC shop, samples of the players' bats hang from the walls or are piled in racks. It's as close as it gets to a hands-on candy store for baseball groupies.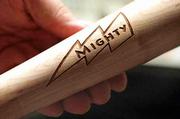 Holmes, an investment broker who plays in a wood-bat baseball league for adults in Kansas City, said the company didn't always have an elite clientele.
"We started slow," he said. "When we began, a good month was 300 bats."
Mighty KC now produces 30,000 a year.
That growth may not have been possible had Holmes not formed a partnership in 1996 with one of the most cherished players in Kansas City baseball history, Frank White.
The former Royals second baseman and current Royals coach gave the company instant credibility.
"That was crucial," Holmes said.
Financial investments by Holmes and four others, including best friend Bill Taylor, gave Mighty KC the operating capital it needed to take a swing at prosperity.
"Our first customer was Joe Carter," Holmes said.
What began with White and Carter, who led the Toronto Blue Jays to their only World Series title, could be poised for major growth. Mighty KC's goals are to sell 50,000 bats next year and 100,000 annually within five years.
The major-league market for wood bats is finite, and dominated by Louisville Slugger and Rawlings.
But the addition of minor league teams using wood bats and future decisions about the use of wood by the NCAA, and subsequently by state high school activity associations, could give Mighty KC a bigger slice of the action.
"The collegiate market is getting ready to explode," Holmes said. "In three years, the College World Series will have wood or woodlike bats."
If the NCAA went to wood, he said, high schools soon would follow.
Swinging in a bigger market
Bobby Randall, coach of the Kansas University men's baseball team and a former infielder for the Minnesota Twins, said many collegiate coaches and players would prefer wood bats.
"There are a lot of coaches who would love to go to wood," he said. "If the players voted, it'd be a wide margin for wood bats."
He said there was nothing like the sound of solid contact between horsehide and wood. Unlike aluminum bats, a wood bat gives a hitter immediate feedback as to the quality of a stroke.
But Randall isn't optimistic about wood replacing composite metal in college baseball a move he figures to be at least five years away.
The most visible downside of turning to wood would be a big drop in offensive production, which could test fan interest in the game. Of course, nostalgia for baseball of old remember pitching duels? argues for use of wood.
Randall said high school and college players serious about turning pro must learn to handle a wood bat, which isn't as forgiving as its metal-alloy cousin. A pitch that would splinter a wood bat could fall in for a bloop single if struck with an aluminum bat.
"It's the most difficult transition to make right now into professional baseball," he said.
Growing popularity of wood-bat baseball tournaments may be an indication of grass-roots support for creation of a market that would benefit Mighty KC and about 15 other modest-sized bat companies in the United States.
In Lawrence, former minor leaguer Lee Ice has organized a wood-bat tournament for six years. In June, eight teams played with bats supplied by Mighty KC. The last five games of the tournament were decided in extra innings by one run.
"It really changes the strategy of the game," Ice said. "There's not as many multiple-run innings, not the big six-, seven-, eight-run innings."
Ice said he would like to see amateur baseball return to wood bats, but believes the issue boils down to economics. College, high school and summer teams may not be able to afford enough wood bats to last a season.
In the 17-game Lawrence tournament, 20 bats were broken.
Ice said the transition to wood might be more feasible if major league baseball subsidized the cost of wood bats, at least for Division I universities.
Keep slugging away
About 2.3 million wood bats are sold in the United States each year, Holmes said. Louisville Slugger and Rawlings account for most of those sales, and that's likely to remain the status quo.
"Louisville and Rawlings have 80 percent of the business," he said. "We're just happy to get crumbs off the table."
But those morsels help nourish the souls of Holmes and about 20 people who produce and sell Mighty KC bats.
"My desire is to be the bat man full time," Holmes said.
When Holmes was searching for an investment opportunity, he considered his choices to be limited: Either open a liquor store or start a bat company.
"Can you believe it?" he said. "I don't think many people come in late at night and try to rob bat companies."
And, even if they did, Holmes and his colleagues could defend themselves with some of the finest whoop sticks in the world.
Copyright 2018 The Lawrence Journal-World. All rights reserved. This material may not be published, broadcast, rewritten or redistributed. We strive to uphold our values for every story published.